HNC Music Business candidate information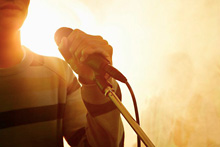 The HNC Music Business provides you an opportunity to prepare yourself for a business career in the music industry. It is designed to meet employers' and candidates' needs and priorities. It will develop practical business competences and key music industry management skills through in-depth analysis of current music industry managerial concerns.
The award is designed to enhance your skills as either composer/performer, sound engineer/designer, or on the business side.
You will also develop your skills in analysis and synthesis, study, evaluation, research, planning, and investigation.
Employment and progression opportunities
There are employment opportunities within organisations and on a freelance basis in a variety of areas including: recording studios and sound production companies; record and publishing companies; commercial and corporate enterprises; teaching appointments both private and in schools and colleges.
Entry
As with all SQA qualifications, entry is at the discretion of the centre. Examples of formal entry qualifications include:
A strong interest in the music business and its management.
Ability in English to SQF level 6 (or language-based subject such as Economics, History or Modern Studies) along with three standard grade passes or equivalent.
An appropriate programme of study at National Qualification level in Business Studies, Music, Media Studies or other Business and/or Music related areas.
An existing HNC.
Qualifications comparable to the above gained from other awarding bodies.
Mature candidates may bring other qualities and qualifications, which may be appropriate. Prior or experiential learning may also be considered appropriate in some circumstances.
Formal academic achievements will not, in themselves, be enough for entry. You may be asked to undergo an appraisal, which includes an element of guidance.