NPA Administration: Medical Receptionist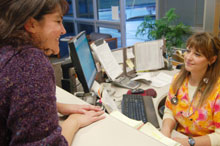 The National Progression Award (NPA) in Administration: Medical Receptionist at SCQF level 5 has been developed by SQA with the purpose of improving learners' skills in medical terminology and reception. This NPA is designed for individuals who are currently working in, or desire to work in, the health sector. Completion of the NPA may also provide learners with opportunities for progression either within the sector or to other SCQF level 5 or 6 qualifications.
This qualification is available through colleges.
Use the tabs below to open each section individually. Alternatively you can show allhide all the sections.
Why deliver this qualification
Within the NHS primary sector, the NPA in Administration: Medical Receptionist enables learners to address the key areas of registration of new patients, making appointments and dealing with enquiries from patients, and accepting specimens, confirming results of investigations and arranging ambulances as required. Within the NHS secondary sector, the NPA enables learners to carry out reception duties to patients and clinical staff within the hospital during and outwith hours, check patient demographic details, and sort and allocate filing to appropriate areas.
Who does this qualification suit
The NPA in Administration: Medical Receptionist is suitable for the following learners:
school leavers
adult returners
employees wishing to enhance their qualifications
potential candidates looking for access to HN
as 'added value' to full-time candidates
Access
There are no specific recommended entry requirements for this NPA. Entry will be at the discretion of the centre. However, it is recommended that candidates should have previous experience in Communication, Audio and Word Processing at level 4 or related work based experience.
Progression
On successful completion of the NPA in Administration: Medical Receptionist, it is envisaged that employment could be gained in the health sector in one of the following areas:
Medical Secretary (hospital and GP)
Receptionist/Secretary (hospital and GP)
For candidates who are looking to progress into employment in the NHS, this NPA is aimed at Band 2 staff who wish to progress into Band 3 Administrator/ Support Secretary roles, particularly the Audio Typing and Word Processing Units.
Approval
Centres with devolved authority are eligible to seek approval through their own internal approval process.
Centres without devolved authority will have to come forward for approval and should contact the Business Development Team for guidance in completing the combined CA1/SA1 form.
Assessors and verifiers must be able to meet SQA's general requirements as outlined in the guide to approval.
How to assess
Timetabling of the three Units would be at the discretion of individual centres. However, it would be recommended that Medical Terminology should be offered first, as reference is made to this in the other two Units.
Assessment Support Packs have a critical role in ensuring that delivery of Units is linked to medical administration and admin-related situations allowing for integration of delivery of the two Units, Medical Administration and Medical Receptionist and Records, and assessment where possible.
Where can you take this course?
Qualification content and delivery tools
Qualification structure
Group Award code: GA4C 45 (18 SCQF credit points)
NPA Administration: Medical Receptionist at SCQF Level 5 (185 KB)
Structure
The NPA in Administration: Medical Receptionist consists of three mandatory Units:
Medical Terminology — F5AK11
Medical Reception and Records — F5AJ11
Medical Administration — FF2E 10
Offer this qualification