PDA in Strategic Leadership at SCQF level 11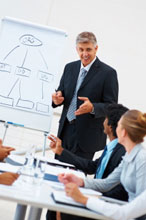 The Professional Development Award (PDA) in Strategic Leadership at SCQF level 11 offers candidates the opportunity to develop their managerial competence in two of the key areas identified by the Council for Administration (the government recognised Standards Setting Body for Management and Leadership). These are: providing direction and achieving results.
The qualification is available through colleges and training providers.
Use the tabs below to open each section individually. Alternatively you can show allhide all the sections.
Why deliver this qualification
The PDA in Strategic Leadership at SCQF level 11:
is nationally recognised
can be achieved at work
has no formal entry requirements
provides recognition of competence in leading and delivering organisational improvement
enables progression within the Management SVQ framework
enhances career prospects
Who does this qualification suit
The target group for this award is senior managers; chief executives; directors and those in strategic posts who can generate the evidence within the workplace. The award is suitable across private sector; public sector and voluntary sector.
Access
Whilst entry to the PDA in Strategic Leadership at SCQF level 11 is at the discretion of the centre, eligible managers must have current experience in a managerial role which will enable them to demonstrate the competences of the two Units in this PDA.
Both Units in this PDA have been levelled at SCQF level 11. Before commencing the award, candidates should be able to show that they have the requisite background to attempt a Unit at level 11. In particular they should be able to demonstrate appropriate written and oral communications skills for Units at this Level and the capacity to be able to grasp the underpinning knowledge and understanding required for a PDA at this SCQF Level.
The PDA in Strategic Leadership is based on SVQ Management Units. In line with the Assessment Strategy developed for SVQs in Management, access to the PDAs in Management is open only to those who currently occupy a management role which enables them to display competence at the level of the standards which make up the award.
Progression
The PDA is jointly certificated by SQA and the Chartered Management Institute (CMI). Successful candidates can gain membership of CMI which means that they can become part of the professional community of managers and can benefit from the development opportunities that this can bring.
Candidates who successfully complete this PDA will have gained two Units towards the SVQ 5 in Management at SCQF level 11.
Approval
Centres with devolved authority for approval should use their own internal approval process.
Centres without devolved authority require to come forward for approval and should contact SQA's Business Development Team for guidance.
Assessors and verifiers must be able to meet SQA's general requirements for technical/occupational competence as outlined in the Systems and Qualification Approval Guide.
How to assess
The qualification consists of two practical Units and is part of the SVQ/NVQ framework.  It is, therefore, work based and is designed for candidates who are employed.  Candidates will be supported by a qualified assessor and can work through their qualification at their own pace. However, it is likely that assessment plans between assessor and candidate will agree target dates for completion of specific parts of each Unit.
The delivery and assessment of the PDA in Strategic Leadership at SCQF level 11 is governed by the Management Assessment Strategy.
Where can you take this course?
Arrangements Documents
Unit(s) and delivery tools
Group Award code: GC8V 51 (24 SCQF credit points)
SCQF level: 11
Structure The PDA in Strategic Leadership at SCQF level 11 consists of two mandatory Units:
Information sheet(s)