National Certificate in Sport and Fitness at SCQF level 4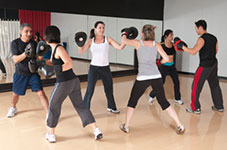 NCs are practical qualifications that are designed to equip learners for further study or to gain employment.
The National Certificate (NC) in Sport and Fitness at SCQF level 4 is for learners who wish to develop knowledge and skills in sport and fitness, eg personal fitness, how to deal with accidents and emergencies, and how to plan activity sessions. It includes session planning skills, working with others skills, and a general understanding of the work environment in the sport and fitness industry.
National Certificates (NCs) are designed for full-time delivery over one year (or part-time over two years) and are available through schools, colleges and training providers.
Use the tabs below to open each section individually. Alternatively you can show allhide all the sections.
Why deliver this qualification
NCs are flexible qualifications designed for full-time delivery over one year (or part-time over two years).
This NC replaces a number of introductory programmes offered at local level by individual centres. Centres can choose optional Units to suit local needs and provide a nationally recognised qualification.
This practical qualification is not designed as an online or open-learning programme but there is scope for a blended approach to learning, including e-learning and e-assessment of theoretical components.
Who does this qualification suit
This NC is suitable for a wide range of candidates including:
School leavers
Adult returners to education
Learners looking to progress to an HNC/HND
Access
Entry is at the discretion of the centre. However, an interest in sport and fitness would be beneficial, as would an interest in coaching.
It is expected that centres may carry out interviews for this course. Core Skills profiling should be carried out where there is no formal record of Core Skills achievement.
In the case of adult returners, recognition of prior learning (RPL) may be applicable.
Progression
This NC will allow progression on to SCQF level 5 courses in sports coaching or health and fitness, or into the world of work to undertake an SVQ Level 2 in Sports Coaching or SVQ Level 3 in Coaching Football, perhaps leading to a Modern Apprenticeship.
Certain Units will enhance candidates' employability skills and help improve their employment prospects, for example:
Personal Development: Self and Work
Sport and Recreation: Assist with Activity Sessions
Sport and Recreation: Dealing with Accidents and Emergencies
Sport and Recreation: Skills for Employment
Approval
Centres with devolved authority for approval should use their own internal approval process.
Centres without devolved authority will have to come forward for approval and should contact SQA's Business Development Team for guidance.
Assessors and verifiers must be able to meet SQA's general requirements for technical/occupational competence as outlined in the Guide to Approval.
How to assess
Each Unit specification gives detailed information on the Evidence Requirements and approaches to assessment for the Unit.
There is scope for e-learning and e-assessment of theoretical components.  However, in the case of practical activities, such Sport and Recreation: Assist with Activity Sessions, e-assessment is not appropriate. In these cases, other forms of evidence could be encouraged such as video recording or the use of photographs.
Candidates could be asked to develop a portfolio of evidence, which could be in the form of an e-portfolio.
Where can you take this course?
Qualification content and delivery tools
Qualification Structure
Group Award Code: GF4G 44
This new Group Award NC in Sport and Fitness at SCQF level 4 consist of 8 mandatory units and 32 optional units at SCQF level 4.
For further information on the units and structure of the qualification, please refer to the Group Award Specification document (501 KB)
Qualification Verification Summary Reports
Qualification Verification Summary Reports were formerly known as Internal Assessment Reports.
Offer this qualification