National Progression Award in Horse Care at SCQF level 6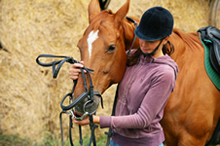 The National Progression Award in Horse Care at SCQF level 6 is a practical award that is designed to provide candidates with a formal qualification, often for work they have been doing for some time in riding schools or stables.
The NPA in Horse Care at SCQF level 6 may also provide a bridging programme to HNC/HND Equine Studies for candidates who have successfully completed the NC in Horse Care at SCQF level 5.
The qualification is available through colleges.
Use the tabs below to open each section individually. Alternatively you can show allhide all the sections.
Why deliver this qualification
NPAs are trusted because they are developed by practitioners from industry and are supported by the relevant sector skills council (SSC).
This NPA is suitable for full-time, part-time and flexible delivery but is not, in the main, suited to e-learning methods as the content is mainly practical.
Who does this qualification suit
This NPA is aimed school leavers and adult learners with appropriate equine experience. It is also suitable for employees who wish to develop their abilities in the horse industry through continuous professional development. In addition, this NPA should enhance candidate progression to the HNC in Equine Studies.
Access
Entry to award is at the discretion of the delivering centre.
However, for entry to the NPA in Horse Care at SCQF level 6, it is recommended that candidates should have achieved the National Certificate in Horse Care at SCQF level 5 (or an appropriate qualification from another awarding body), or can provide evidence of appropriate experience of working with horses in an educational, voluntary or paid capacity.
Candidates would be expected to have achieved Core Skills at SCQF level 5 in Communication, Working with Others, Problem Solving and Numeracy. The level of ICT required for entry to the NPA in Horse Care at SCQF level 6 is Core Skill ICT at SCQF level 4, because of the nature of the horse care industry and the lesser dependence on ICT than in other industries.
Some candidates may need  to be provided with a Core Skills profile to determine their suitability for undertaking the level of the award.
Progression
Achievement of the NPA in Horse Care at SCQF level 6 should facilitate progression either to further study, eg to the HNC Equine Studies at SCQF level 7, or to employment within the industry, eg as a competition groom.
Approval
What approvals are needed?
Centres with devolved authority for approval should use their own internal approval process.
Centres without devolved authority will have to come forward for approval and should contact SQA's Business Development Team for guidance.
Assessors and verifiers must be able to meet SQA's general requirements for technical/occupational competence as outlined in the Guide to Approval.
How to assess
Given the practical content of this qualification, successful delivery of the NPA in Horse Care will require access to a realistic working environment such as a college stable or riding school. Tutors are encouraged to use a variety of practical activities and to emphasise the development of the candidate's own personal qualities and skills.
The horses used must be quiet and used to handling, although all candidates will be made aware that any horse can be unpredictable. The use of personal protective equipment is also highlighted throughout the individual Units.
Some elements of the course may be suitable for e-assessment such as the identification of tools, grooming kit, tack etc.
Where can you take this course?
Qualification content and delivery tools
Qualification structure
Group Award Code: GF4H 46
SCQF level: 6
NPA in Horse Care at SCQF level 4 and 6 (501 KB)
The National Progression Award in Horse Care consists of three mandatory Units at SCQF level 6 and two optional Units at SCQF level 5.
Offer this qualification