NPA Administrative Activities level 4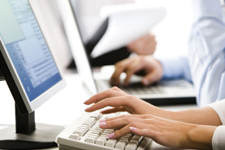 This qualification is widely available. However, the content and structure may restrict their delivery in anything other than an FE college.
The NPA in Administrative Activities at SCQF level 4 has been designed to provide learners with the practical skills and theoretical knowledge of the administrative systems and services that are essential to the effective working of a modern office, at junior level. It will also allow progression to further academic qualifications.
The NPA will also allow learners to have 'hands on' experience of key pieces of office equipment, develop communication skills with internal and external customers, and improve their skills in locating, retrieving information and developing IT skills to present information.
The structure and Unit content provide a vocational and relevant curriculum that promotes articulation and transition into further and higher education. It does this whilst also supporting skills for industry and future employment, including the soft skills demanded by employers.
Use the tabs below to open each section individually. Alternatively you can show allhide all the sections.
Why deliver this qualification
Top features and benefits for centre
Provide a structured route into HNC /D
Flexible delivery
Funded by Scottish Funding Council
Top features and benefits for learners
Provide skills to go on to further study or entry level employment
Relevant to the vocational area they are interested in (based on National Occupational Standards)
Credit can be built up over a period of time and if the learner leaves without completing the course they will be credited for their learning to date.
It is envisaged that this NPA could be offered in one of these modes:
Full-time
Part-time
Open and Distance Learning (may be suitable for some elements)
Infill to existing classes
Evening
The delivery of this NPA is at the discretion of individual centres.
The structure of the qualification allows centres a high degree of flexibility in the delivery. The award can be offered:
in a practical setting, which could be in the learner's current place of employment, in a placement scenario, or in a simulated practical learning environment in a centre
as a full-time short programme, day release, or evening class
using a combination of delivery styles — for example, learners may want to study on a half-day/evening basis or combine evening (or day release) study with some distance/open/on line learning provision
Who does this qualification suit
The NPA in Administrative Activities has been designed to fill a gap in provision at SCQF level 4. This gap has been identified by informal scoping carried out by centres represented on the Qualification Development Team (QDT). For example, some learners applying for SCQF level 5 courses did not have suitable entry qualifications; others accepted on to an SCQF level 5 course struggled with elements of it. The QDT identified four main client groups for the NPA:
young people who may still be at or have left school recently
mature 'adult returners' who have decided to re-enter education
potential candidates whose first language is not English
employers wanting short CPD course for their employees
Access
Entry will be at the discretion of the centre. Some centres may offer Core Skill Profiling to ensure the course is appropriate to the learner's capability. Individual Unit specifications provide guidance on recommended entry requirements.
Progression
Learners undertaking and successfully completing the NPA in Administrative Activities at SCQF level 4 could progress onto SCQF level 5 units — for example Administrative Services DM3P 11, IT for Administrators DM3R 11, and Word Processing 4 D932 11.
Learners could also progress to the NPA in in Administration: Office Skills and Services at SCQF level 5 and NC in Administration at SCQF level 5. If they obtain employment in the administrative sector, they may also have an opportunity to undertake SVQ level 2 in Business Administration.
Approval
Approval is devolvable for colleges with devolved authority for approval only. All other centres need to apply for approval. Charges for this are based on the number of verification groups in the NC and should be checked with our QAV team.
Assessors should be qualified to the same level or above in this subject area to deliver these qualifications.
If an NC or NPA contains an externally-assessed component of a National Course, teaching staff must be suitably qualified to deliver this.
If an NC or NPA contains SVQ units, assessors must have or be working towards the L&D91 unit or equivalent.
How to assess
Assessment Support Packs are available for all four Units. This will reinforce the practical aspect of the Unit specification, as well as setting a common standard across centres. 
Assessment Support Packs have a critical role in ensuring that delivery of Units is linked to administration and admin-related situations, allowing for integration of delivery and assessment where possible. An example could be that a topic for the Administrative Activities assessment could be used in the unit Produce Business Documents Unit.
The NPA Administrative Activities at SCQF level 4 contains six essential Units. These Units make up the four credits learners need to gain the NPA in Administrative Activities at SCQF level 4.
These essential Units are designed to:
Give learners an insight into administration.
Enable learners to consider the various options open to them and to make informed career choices for their future.
Prepare them for entry into further qualifications, eg into an NC at SCQF Level 5 Administration, SVQ Business Administration level 1 or 2.
Provide them with specific administrative skills and the transferable skills demanded by employers.
Provide them with the opportunity to develop core skills for administration-related occupations and for further study in administration subjects.
Provide them with the opportunity to develop a range of other skills which they will be able to use in many life, learning and work situations.
The Units will provide learners with skills in the following areas:
Skills and knowledge for working in  the administrative sector
Customer service practices
Working safely
Organisational skills
Employability skills
Research skills
Positive attitude to workplace and learning
The importance of time-keeping and attendance
The importance of creating accurate content for business documentation
The importance of information technology
The importance of keeping up-to-date with technology
The importance of good verbal communication
The importance of good listening skills
How to work co-operatively with others as a member of a team
Self-respect and showing respect and consideration for others
Adaptability and flexibility
Application of appropriate legislation, eg health and safety
Planning and Preparing
Confidence to seek feedback
Confidence to give feedback
Personal target-setting and review
For some Units, learners may be able to relate what they are learning to other subjects they have studied, their work experience, or simply their own ideas about the subject if they have previously studied it in school or worked in the administrative sector.
Where can you take this course?
Qualification content and delivery tools
Qualification structure
Group Award Code: GF4K 44
The National Progression Award in Administrative Activities and Technologies consist of 4 mandatory units and 2 optional units at SCQF level 4.
Offer this qualification