Waste
Energy extracted from waste can produce useful power and reduces landfill, which is good news for Scotland's economy and the environment.
Scotland produces its fair share of waste each year, but we also produce our share of another valuable resource — trained and highly skilled staff. It's a resource that can help us turn our waste into energy.
SQA offer a wide range of relevant Waste Management qualifications all developed in association with the industry. Qualifications are awarded jointly in Scotland with the Waste Management Industry Training & Advisory Board (WAMITAB). WAMITAB award waste qualifications throughout the UK.
These vocational qualifications are ideal for people seeking entry or those already working the waste industry who wish to improve their competence.
MySector
For more information about qualifications in the Waste sector, please click on the button below
Qualification Information
Assessment Strategy
Assessor's Guidelines
Workbooks
WAMITAB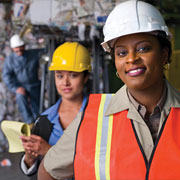 On 14 November in Perth, SQA and WAMITAB signed a Qualifications Partnership Agreement (QPA).
SQA and the Waste Management Industry Training and Advisory Board (WAMITAB) have signed an extension to their successful partnership agreement for qualifications tailored for the waste industry.