NPA in Horse Care at SCQF level 4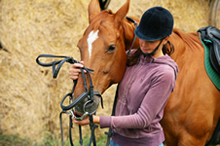 This National Progression Award (NPA) at SCQF level 4 is an introductory qualification in horse care for people who are interested in gaining initial experience and/or a formal qualification. The Award will provide candidates with primary horse care skills and relevant knowledge and understanding. It will also help to develop successful and confident learners with transferable skills
The qualification is available through colleges.
Use the tabs below to open each section individually. Alternatively you can show allhide all the sections.
Why deliver this qualification
NPAs are developed by practitioners from industry and are supported by the relevant sector skills council (SSC).
This National Progression Award (NPA) at SCQF level 4 is part of a portfolio of qualifications in Horse Care/Equine Studies which will provide candidates with opportunities for progression to further study or employment in the equine industry.
This NPA is suitable for full-time, part-time and flexible delivery but is not, in the main, suited to e-learning methods as the content is mainly practical.
Who does this qualification suit
This NPA is aimed at school pupils, school leavers and adult learners with little or no equestrian experience. It is also suitable for employees who wish to develop their abilities in the horse industry through continuous professional development.
Many riding establishments engage people who help them on a voluntary basis but who do not gain any formal qualification for the work carried out. The NPA in Horse Care at SCQF level 4 will give these volunteers an introductory qualification that will enable them to assist safely with quiet horses and enhance their prospects of gaining access to further education, or their opportunities for part-time or full-time employment.
The NPA at SCQF level 4 is also suitable as a short course for school pupils on work experience who have a keen interest in horses.
Access
Entry to the award is at the discretion of the delivering centre.
There are no specific, formal entry requirements for the NPA in Horse Care at SCQF level 4, however given the practical nature and environment of this course, it will be beneficial if candidates can demonstrate an interest in working with horses.
For candidates who have recently left school, centres may ask for relevant Standard Grades at General level as a condition of entry, though no formal entry requirements may be required of adult returners. Centres should check whether potential candidates are likely to cope with the demands of the award and reference to school attainment or appropriate life or work experience may provide evidence.
Progression
All Units in the NPA in Horse Care at SCQF level 4 facilitate progression to the level 5 National Certificate in Horse Care and have been designed to correspond directly to some of the mandatory Units in the level 5 Award. Units included in the SCQF level 4 award have been chosen to develop initial skills which are important for introducing the important safety aspects of working with horses.
Candidates may be able to progress to higher level qualifications within a college such as the National Progression Award in Horse Care at SCQF level 6 and then to the HNC in Equine Studies.
Approval
What approvals are needed?
Centres with devolved authority for approval should use their own internal approval process.
Centres without devolved authority will have to come forward for approval and should contact SQA's Business Development Team for guidance.
Assessors and verifiers must be able to meet SQA's general requirements for technical/occupational competence as outlined in the Guide to Approval.
How to assess
Given the practical content of this qualification, successful delivery of the NPA in Horse Care will require access to a realistic working environment such as a college stable or riding school. Tutors are encouraged to use a variety of practical activities and to emphasise the development of the candidate's own personal qualities and skills
The content of this award reflects the need for the basic skills required at this level, the emphasis being on the safety elements of handling horses. Candidates will only be required to assist and to work under supervision.
The horses used must be quiet and used to handling although all candidates will be made aware that any horse can be unpredictable. The use of personal protective equipment is also highlighted throughout the individual Units.
Where can you take this course?
Qualification content and delivery tools
Offer this qualification