Trade Union Representative Skills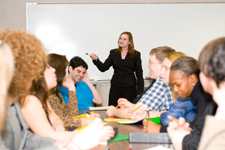 SQA has worked in partnership with trade unions, employers and industry to develop a Higher National Certificate (HNC) and Professional Development Awards (PDAs) in Trade Union Representative Skills.
HN qualifications provide practical skills and theoretical knowledge. PDAs extend or broaden professional or vocational skills and are linked to National Occupational Standards.
The HNC and PDAs are practice-based qualifications and are aimed primarily at trade union representatives who wish to improve their professional practice and achieve an occupationally-specific qualification. These are the only nationally-recognised qualifications currently offered in this area.
These qualifications cover a range of subjects including health and safety, employment law, communication, equality and diversity, lifelong learning and aspects of human resources.
For further information on each Group Award please follow the appropriate link below: