NPA Professional Cookery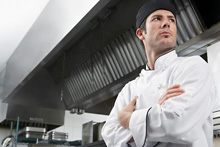 This qualification is widely available. However content and structure may restrict delivery in anything other than an FE college.
The National Progression Award in Professional Cookery at SCQF Level 3 is aimed at those currently attending school, or adult returners who have no formal qualification in catering and/or hospitality. It will be particularly relevant to those learners who have assisted, supported learning needs (ASL) and who may not have access to mainstream qualifications or who cannot access vocational education outside of established school-college partnerships. Consultation with key providers of this type of provision shows there is a need for more robust ASL provision, in the college sector, that provides learners with a recognised qualification.
The NPA in Professional Cookery at SCQF Level 4 has been designed to equip learners with the skills and knowledge required to progress onto the full-time college programme that will include the NQ Group Award (NQGA) Professional Cookery Course at SCCF Level 5 or to seek employment in the Hospitality and Catering Industry as a trainee/commis chef/apprentice. This NPA is aimed at learners who may be interested in pursuing a career in the catering industry but who do not necessarily have any prior experience of cookery and therefore lack the experience to make an informed judgement about which course or career path to follow.
These NPAs are designed to complement learners' academic studies at school, and at the same time to provide them with valuable insight into the hospitality and catering industry. On completion of the NPAs, learners will be able to make an informed decision on a suitable progression route to match their abilities, aspirations and goals.
Adult learners who have no formal qualifications and/or who have been out of the labour market for a period of time may also benefit from undertaking this qualification.
Use the tabs below to open each section individually. Alternatively you can show allhide all the sections.
Why deliver this qualification
Top features and benefits for centre
Provide a structured route into HNC /D
Flexible delivery
Funded by Scottish Funding Council
Top features and benefits for learner
Provide skills to go on to further study or entry level employment
Relevant to the vocational area they are interested in (based on National Occupational Standards)
Credit can be built up over a period of time and if the learner leaves without completing the course they will be credited for their learning to date.
Although the content of both NPAs is not specifically designed as online or open learning programmes, there is scope for a blended learning approach embracing traditional methods with e-learning and e-assessment. E-assessment is not appropriate for practical activities, however. In these cases, other forms of evidence, such as video recording, could be encouraged.
Where alternative methods are used, staff in centres must consider how they will ensure the authentication of learner evidence.
Who does this qualification suit
The NPAs in Professional Cookery are aimed at school pupils in years S3, S4, S5 and S6, adult returners, long term unemployed, and those wishing to follow a different career path.
The NPAs are particularly suited to adult returners to the workplace, including people who have had career breaks to raise a family, and people who have been made redundant and subsequently sustained long periods of unemployment. For middle-aged learners who have not had any formal education post-16, or are looking to retrain in a new discipline, an SCQF level 4 qualification offers an ideal starting point into education. Thereafter, adult learners could progress onto SCQF level 5 or 6 courses in Professional Catering or re-enter the labour market.
Access
While entry to the award is at the discretion of the centre, it would be advantageous if learners had an interest and an understanding in catering and hospitality. The items in the list that follows are simply recommendations and should not be seen as a definitive or prescriptive list of entry requirements — the purpose is simply to give guidance on the selection of suitable learners.
Core Skills Entry Profile
The recommended minimum Core Skills entry profile for the National Progression
Award in Award in Professional Cookery at SCQF level 3:
| | |
| --- | --- |
| Communication |  SCQF level 1 |
| Numeracy |  SCQF level 1 |
| Information and Communication Technology |  SCQF level 1 |
| Problem Solving |  SCQF level 1 |
| Working with Others |  SCQF level 1 |
The recommended minimum Core Skills entry profile for the National Progression Award in Professional Cookery at SCQF level 4:
| | |
| --- | --- |
| Communication |  SCQF level 3 |
| Numeracy |  SCQF level 3 |
| Information and Communication Technology |  SCQF level 3 |
| Problem Solving |  SCQF level 3 |
| Working with Others |  SCQF level 3 |
Alternative Arrangements
The centre may operate alternative access arrangements in cases where the learner has the required competences in a given area. These arrangements are:
Assessment on demand
Credit transfer
Accreditation of prior learning
Progression
The NPA in Professional Cookery at SCQF level 3 will not provide direct entry into employment. However, it will enhance a learner's opportunities through access to further education programmes.
The NPA in Professional Cookery at SCQF level 4 is designed to enable learners to progress either towards employment or further study. Learners choosing to leave education could enter the catering industry as a commis chef/trainee chef/apprentice at entry level in one of the many sectors of the industry including: hotels, restaurants, armed forces, public houses, fast food restaurants, airline catering, welfare catering, contract catering or outside/events catering.
It is also possible to progress to other courses that are recognised by professional bodies, such as the Federation of Chefs, including:
National 5 Hospitality: Practical Cookery
Skills for Work Hospitality
SVQ Food Preparation and Cooking
Intermediate 2 Practical Cookery
Approval
Approval is devolvable for colleges with devolved authority for approval only. All other centres need to apply for approval. Charges for this are based on the number of verification groups in the NC and should be checked with QAV.
Assessors should be qualified to the same level or above in this subject area to deliver these qualifications as per SQA guidance.
If an NC or NPA contains an externally-assessed component of a National Course, teaching staff must be suitably qualified to deliver this.
If an NC or NPA contains SVQ units, assessors must have or be working towards the L&D91 unit or equivalent.
How to assess
Both NPAs seek to develop practical cookery skills and underpinning knowledge which will prepare successful learners for entry into the catering, hospitality or bakery industries or training in Further Education. As a result, they consist of a mixture of practical units, supported by underpinning knowledge conveyed through practical application in part, and through written assessment, time plans and evaluations.
Where the units have been revised, the aim has been that underpinning knowledge and related practical work have been combined in the same unit. This means that delivery of the units can be practically oriented so that learners will be able to develop key practical skills in the training kitchens and recognise the theory, knowledge and understanding of processes and techniques to which these skills relate.
All the practical work will be carried out using appropriate commercial and/or industrial tools and equipment in modern, purpose-built accommodation that is fit for purpose. Practical work also provides opportunities for learners to work in groups on occasion.
It is likely that a range of delivery methods including demonstrations, planning, simulations and role-playing will be used in both NPAs. This should encourage learners to see the relevance of the material they are studying and help to keep them interested and engaged.
The range of different methods will offer variety to learners, and should also help them to think for themselves. Furthermore, it makes the NPAs suitable for a diverse range of learners, with different abilities.
Where can you take this course?
Qualification content and delivery tools
Qualification structure
Group Award Code:GF95 43
The NPA in Professional Cookery at SCQF Level 3 consists of 4 mandatory units and 3 optional units at SCQF level 3.
Group Award Code: GF96 44
The NPA in Professional Cookery at SCQF Level 4 consists of 4 mandatory units (of which the learner must choose 3) at SCQF level 4 and 7 optional units at SCQF levels 3, 4 and 5.
For further information on the units and structure of these qualifications please refer to the Group Award Specification document.
Qualification Verification Summary Reports
Offer this qualification