Sport Coaching: Football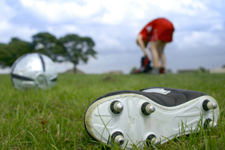 SQA offers Sports Coaching: Football at Level 3 This SVQ is based on the National Occupational Standards (NOS) set and published by the Sector Skills Council for the sector, Skills Active.
The standards provide an accurate and detailed definition of what candidates must know, understand and be able to do. This SVQ will enable those working in this sector to develop the knowledge and skills required to demonstrate competence in their job role.
Use the tabs below to open each section individually. Alternatively you can show allhide all the sections.
Why deliver this qualification
The SVQ in Sports Coaching is offered as a work-based qualification and will be tailored to the candidate's sport. It opens up the possibility of continued study for candidates.
The qualification is nationally recognised, and can be offered at any time. It does not need to follow the academic session.
Who does this qualification suit
The SVQ is aimed at people who may be working as Sports Coaches or volunteering as a coach. The Units relate to the candidate's sports or work, and the Course provides well structured opportunities to improve skills and career prospects.
Access
Entry is at the discretion of the centre. Because this is a work-based qualification, candidates should be in positions which would enable them to provide the required evidence.
Progression
Although the SVQ is aimed mainly at coaches, candidates could progress to a variety of sports-related HNC/HNDs including Coaching and Developing Sport, and Fitness, Health and Exercise.
The award offers wide recognition of candidates' skills and achievements, which can mean greater job satisfaction.
Approval
Centres interested in offering this qualification should come forward for approval and contact SQA's Business Development Team for guidance.
Assessors and verifiers must be able to meet SQA's general requirements for technical/occupational competence as outlined in the Systems and Qualification Approval Guide. The specific delivery requirements are set out in the Assessment Strategy.
Where can you take this course?
Qualification content and delivery tools
Information about the qualification(s)
Qualification Structure
This qualification is now in its lapsing period and will finish on 31/01/2020.
Centres should note:
The qualification will be deleted from the relevant catalogue
The qualification's content and delivery tools will remain on SQA's website until 31/01/2020 at which point they will be removed and archived
No new centres may be approved to offer the qualification
No candidates can be entered for the qualification
Centres should ensure candidates complete the qualification and results are submitted to SQA before 31/01/2020.
National Occupational Standards
Unit information for this qualification is available on our Unit Search.
Modern Apprenticeship
This Award is also part of the Modern Apprenticeship in Active, Leisure, Learning and Well-Being L2 and L3
Information about delivery, assessment, quality assurance and support material
Assessment strategy
Assessor's guidelines
Candidate Guidance and Portfolio