Learn while you earn with Edinburgh Napier University
Business and Enterprise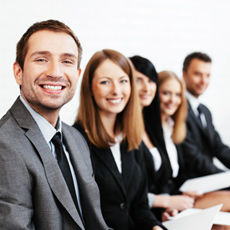 A new degree programme from Edinburgh Napier University offers people in employment the opportunity to learn while they earn — combining work with valuable further study.
The new BA Business and Enterprise offers students a way to achieve a degree in an innovative and flexible way. Delivered on-campus at Edinburgh Napier University, or off-campus at four venues — Liverpool, Exeter, Halifax and Gloucester, it allows learners the flexibility to attend the venue closest to them.
Following induction, learners study independently using online materials and assessments, and attend workshops at a local hub in their region, just once a month. There are also three entry points in the year — January, May and September and the degree takes one calendar year to complete. This flexible approach allows students to work and study at the same time — convenient for employers and students alike.
SQA is proud to be working in partnership with Edinburgh Napier University, and is keen to assist SQA centres in promoting further study opportunities for their students. This may be a great opportunity for your centre to get involved:
You may already know of someone who'd like to progress on to a degree.
You may already be offering SQA qualifications that can provide a stepping-stone straight into the third year of the degree programme.
There are many entry routes to this degree programme. Students experiences are explored further in these video case studies.
There's more information on routes to this innovative new degree programme on the Edinburgh Napier University website.
Benefits to centres
As an existing centre, your company could already be providing SQA qualifications that will support learners — many SQA qualifications now offer direct entry to the third year of Edinburgh Napier University's BA Business and Enterprise. There isn't an exhaustive list of entry qualifications — the university takes a holistic approach, not least because the course attracts students from a wide range of backgrounds, with a wide range of qualifications, not just in Scotland, but worldwide.
SQA qualifications at SCQF level 8 are generally recognised as the entry level — contact Edinburgh Napier University for more information. Examples of SCQF level 8 qualifications include HNDs, SVQ level 4, and many Professional Development Awards.
This degree that gives students the opportunity to earn while they learn — combining work with further study. If you're offering qualifications that feed into this degree programme, you can help your learners see the progression into a degree programme as a natural stepping stone for continuing their studies.
For more information on the Edinburgh Napier University partnership, please contact your BDM.
Related Links