Diploma in Maritime Studies: Workboats at QCF level 2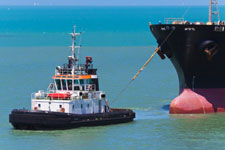 The Diploma in Maritime Studies: Workboats at QCF level 2 develops knowledge and skills in areas such as health, safety and emergency situations, and operational aspects of getting a workboat ready for use including basic navigation. Candidates can specialise in the operation of workboats, ie a boat used for work or trade rather than sport, public transportation, or military purposes.
This qualification is available through colleges and training providers.
Why deliver this qualification
The maritime sector plays a significant role in the economy. However, an ageing workforce is limiting the sector's capacity to meet its skill and labour needs and there is a pressing need to attract new young entrants to the sector.
Learners can progress to a range of courses at a higher level including Level 3 Diplomas in Maritime and Shipping Operations.
This Diploma in Maritime Studies: Workboats at QCF level 2 can be offered in any of the following modes:
full-time
part-time (eg day-release)
Who does this qualification suit
The Diploma in Maritime Studies: Workboats at QCF level 2 is suitable for a wide range of candidates including:
progression learners from basic maritime qualifications
employed learners who wish to enhance their career prospects
learners wishing to move from one sector of the maritime industry to another
Access
Entry is at the discretion of the centre.
Progression
This qualification provides the opportunity to progress to further learning or to more senior positions on work-based vessels. Learners also have the opportunity in the future to use this qualification to undertake an intermediate Maritime Apprenticeship.
Approval
The approval of this qualification is not devolved to centres.
Interested centres should contact SQA's Business Development Team if they wish to become approved for this qualification.
Assessors and verifiers must be able to meet SQA's general requirements for technical/occupational competence and any specific requirements identified in the appropriate assessment strategy for the qualification.
How to assess
On-going course assessment will apply. Each Unit specification gives detailed information on the Evidence Requirements and approaches to assessment for the Unit. The Diploma is designed to be assessed in the workplace, or in conditions of the workplace. Assessment Guidelines and Units are available on SQA's secure website.
Where can you take this course?
Qualification content and delivery tools
Apprenticeships
Qualification Structure
Additional information
Unit and Assessment Specifications Assessment Guidance
Offer this qualification