Diploma in Audit Practice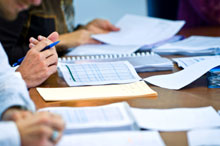 The Diploma in Audit Practice at SCQF level 8 is a new work-based qualification that provides a route to a career in audit and related professions.
Part of the Technical Apprenticeship in Professional Services, this Diploma offers a blend of technical knowledge, wider competence and business skills that employers have indicated are needed to enable apprentices to operate effectively and productively in an audit environment.
This qualification is one of four Diplomas that SQA offers which sit in the Professional Services Technical Apprenticeship framework. The others are:
The Diploma in Audit Practice has eight Units in common with the other three Diplomas. 
These qualifications are available through employers and training providers.
Use the tabs below to open each section individually. Alternatively you can show allhide all the sections.
Why deliver this qualification
The Diploma in Audit Practice at SCQF level 8 is a new course for the growing financial services sector in Scotland.
Supported by the Scottish Government, this competence-based qualification is part of the Technical Apprenticeships framework for Professional Services.
The Diploma enables the learner to demonstrate both underpinning knowledge and performance evidence of competence in audit practice.
It is based on the current version of National Occupational Standards, defined by the Financial and Legal Skills Partnership which is the Sector Skills Council (SSC) for the financial services sector.
The Diploma in Audit Practice can be offered within a workplace environment allowing learners to demonstrate their achievement of the qualification by collecting evidence naturally through their day-to-day work role.
Who does this qualification suit
This Diploma in Audit Practice is suitable for those currently employed in an internal or external audit function looking to enhance, develop or certificate their skills and experience.
The Diploma in Audit Practice is suitable for:
learners who may have just left school
mature candidates who may have been out of education for some time
individuals who are currently in employment and who wish to obtain a formal qualification
employers who wish their employees to obtain a qualification in audit practice
Access
No prior qualifications or knowledge are required to undertake this qualification; however, learners must be employed in a suitable position to allow them to generate the evidence for the qualification.
While entry is at the discretion of the centre the Diploma in Audit Practice is a challenging qualification and, as such, learners should have a good standard of education (SCQF level 6 or above) or appropriate work experience.
Progression
The combination of the level 8 Diploma in Audit Practice and the work experience in audit will provide learners with a variety of opportunities to continue their career, for example:
in a more senior position in auditing
to study for a relevant professional qualification
or to study on a relevant degree programme
Approval
Centres with devolved authority for approval should use their own internal approval process.
Centres without devolved authority will have to come forward for approval and should contact SQA's Business Development Team for guidance.
Assessors and verifiers must be able to meet SQA's general requirements for technical/occupational competence as outlined in the Guide to Approval.
How to assess
Assessment of this Diploma will be through a series of theoretical and practical assessments or tasks. Most of the assessment is likely to take place in the learner's place of work and the learner will build up a portfolio of evidence.
Where can you take this course?
Qualification content and delivery tools
Information about the qualification(s)
Qualification Structure
Group Award Code: GJ12 48
The Diploma in Audit Practice at SCQF level 8 consists of 13 mandatory Units. Please refer to the Qualification Structure (168 KB) for details on the Units making up this qualification.
National Occupational Standards
Unit information for this qualification is available on our Unit Search.
Apprenticeships
The Diploma in Audit Practice is a mandatory component of the Technical Apprenticeship in Professional Services at SCQF level 8. Technical Apprenticeships offer those aged over 16 paid employment combined with the opportunity to train for jobs at senior supervisory and management level.
The Diploma is one of three components of the Technical apprenticeship — the audit practice component. Learners are also required to undertake a technical knowledge component and a career skills component. To satisfy the career skills component, learners must achieve a minimum of two career skills Units amounting to at least 15 SCQF credit points. Please refer to the list of career skills Units (92 KB) for details of the Units that SQA offers.
This Technical Apprenticeship framework provides the skills, knowledge and competence required to work in a wide range of job roles such as external/internal audit trainee/assistant/junior.
Information about delivery, assessment, quality assurance and support material
Assessment strategy
Assessor's guidelines
Candidate Guidance and Portfolio
Feedback Form