Events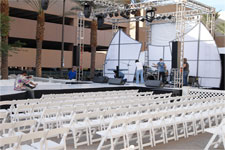 SQA offers qualifications in Events which provide recognised qualifications that are understood and respected by employers in diverse occupational areas. They provide a sound educational and experiential background demanded by certain employers. These qualifications contain both theoretical and practical Units. These qualifications develop the candidate's theoretical knowledge and the vocational skills necessary to fulfil a role within the events sector.
The events industry includes major hotels and hospitality operations which operate events facilities within their complexes. In addition events covers areas such as festivals, sporting events, outdoor concerts and purpose built venues which host events.
Within this sector SQA has produced Higher National Group Awards and Professional Development Awards in the following subjects:
Evaluation
We would like to get some feedback from lecturers involved in the delivery of HNC Events and HND Events Management and the students who are in the process of or have just completed these awards.
We would be grateful if you could take a few minutes to complete the relevant survey which will help us to review and evaluate the awards.
HNC Events
HND Event Management
HND Event Management - Centres
HND Event Management - Candidates
Related links