NPA Digital Passport at SCQF levels 4, 5 and 6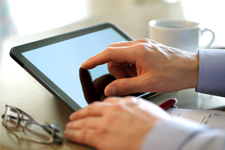 National Progression Awards (NPAs) assess a defined set of skills and knowledge in specialist vocational areas, linked to National Occupational Standards.
The NPAs in Digital Passport at SCQF levels 4, 5 and 6 introduce learners to digital literacy techniques that are important in contemporary society such as communication skills, critical analysis, productivity skills and technical skills.
These awards will give learners the opportunity to develop their knowledge and skills in handling information, in understanding and using computer networks, and in using social media safely, legally and ethically. Learners will also develop confidence and skills in using digital devices such as smartphones, tablets or laptops and they will gain an understanding of digital citizenship that includes educational, community, political and business aspects.
The qualification is available through schools, colleges and training providers.
Use the tabs below to open each section individually. Alternatively you can show allhide all the sections.
Why deliver this qualification
There is an increasing focus at national and European level on the development of Digital Literacy. This focus stems from the recognition that digital literacy is essential for success in the digital economy, education, and social life. It also acknowledges the fact that developing the capability to understand the fundamentals of digital participation is essential for learners preparing to contribute to, and engage in, contemporary society.
The NPAs in Digital Passport at SCQF levels 4, 5 and 6 offer current, fit for purpose, bite-sized chunks of learning that are straightforward for centres to adopt and for learners to study. New skills can be gained quickly and cost effectively. Units can slot into school timetables; and they are a more manageable size for employee training.
These NPAs covers SCQF levels 4–6, allowing clear progression and development routes to:
higher level education
to employment
E-assessment supports flexibility and saves time and other resources. For example, assessment is on-demand using pre-verified questions and they can be accessed 24/7. In addition, marking is automatic and there is instant feedback for formative questions.
The NPAs provides opportunities to develop:
Core Skills (sign-posted)
transferable skills
employability skills
The NPAs could be offered in one of the following modes:
full-time (eg as a fast-track into full a NC or HN programme)
part-time (eg day-release)
open and distance learning
infill into existing classes
evening provision
Who does this qualification suit
The NPAs are suitable for:
learners who wish to develop technology skills with a view to entering the workplace
learners wishing to develop and enhance digital skills to support their learning across a wide range of curricular areas
S3 to S6 school pupils who will undertake the qualification as a broadening of the Computing Science curriculum
students at colleges who will be using the NPAs within full or part-time college programmes such as part of an NC in Computing with Digital Media
adults returning to education with an interest in developing fundamental skills relevant to accessing internet-based resources effectively and efficiently
Access
Entry is at the discretion of the centre. Learners would benefit from having attained the skills, knowledge and understanding required by one or more of the following or equivalent qualifications and/or experience:
Basic IT Skills before beginning the SCQF level 4 Units. This may be evidenced by possession of:
H3LJ 09 Computer Basics (SCQF level 3) or equivalent qualifications or experience
For SCQF levels 5 and 6, it would be an advantage for learners to have completed the Units at levels 4 and 5 respectively.
Progression
The NPAs will enable learners to develop a range of knowledge and skills which are fundamental to the development of digital literacy and directly relevant to the world of business and employment.
The NPAs provide underpinning knowledge of technologies relevant to a wide range of sectors and to progressing either to higher-level educational programmes or to entry-level jobs.
This qualification is available at three levels and learners may progress to the next level to continue their studies. They may also progress to one of a number of further qualifications in this, or a related, area, for example, NC Computing with Digital Media.
With the appropriate set of qualifications, there are also opportunities to progress to Higher National or degree courses. The progression diagram can be found in the Group Award Specification.
Approval
The qualifications are auto-approved to all Scottish schools and colleges so there is no need to seek approval.
Other types of centres will need to come forward for approval and should contact SQA's Business Development Team for guidance.
Assessors and verifiers must be able to meet SQA's general requirements for technical/occupational competence as outlined in the Guide to Approval.
How to assess
Assessment of this award will be a combination of knowledge and practical assessments under closed- and open-book assessment conditions. It is recommended that centres refer to the assessment and evidence requirements for each Unit.
Assessment Support Packs are available on SQA's secure site. E-assessment support packs are also produced and available on SOLAR. More information about assessment can be found in the FAQ document.
The main instrument of assessment (applicable to all Outcomes in each of the three Units at each level of the award) is the production of an e-portfolio containing a robust sample of evidence generated as the learner progresses through the Units.
The evidence of both cognitive and practical competences may take a variety of digital forms including text, graphic, videos, audio or other suitable media over an extended period of time at varying locations. The evidence may also be embedded and/or linked to a blog.
The delivery of the award is at the individual centre's discretion.
Where can you take this course?
Qualification content and delivery tools
Qualification structure
Group Award codes:
NPA in Digital Passport at SCQF level 4 (18 SCQF credit points) GJ7W 44
NPA in Digital Passport at SCQF level 5 (18 SCQF credit points) GJ7X 45
NPA in Digital Passport at SCQF level 6 (18 SCQF credit points) GJ7Y 46
The NPAs in Digital Passport at SCQF levels 4, 5 and 6 consists of three mandatory Units (18 SCQF credit points).
Qualification FAQ Digital Passport (325 KB)
Offer this qualification