Partnerships in food education are recipe for success
09 November 2015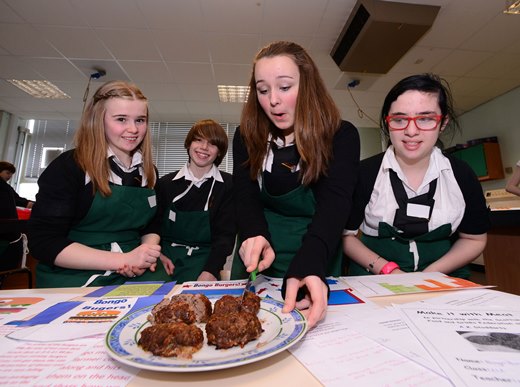 SQA has produced a set of short films highlighting the benefits of partnership working; developing the qualifications, skills and training needed to support Scotland's thriving food and drink manufacturing industry.
To mark the Year of Food and Drink Scotland in 2015, SQA visited West Lothian – an enterprise area for food and drink manufacturing – to highlight the partnership projects between Bathgate Academy, West Lothian College and local manufacturers Macrae Edinburgh, AK Stoddart and Glen Turner Distillery.
Graeme Findlay, Qualifications Manager at SQA said: "Scotland has a global reputation for quality and craftsmanship in food and drink production. It is the most dynamic and successful sector of the Scottish economy, creating over 100,000 jobs directly and indirectly.
"Successful partnerships between schools, colleges and employers like those in West Lothian, are helping to inspire, train and qualify the industries future workforce and are a great example of how SQA's food and drink qualifications, from nationals to SVQs, are helping to support routes into the Scottish food and drink industry."
Moira Stalker, National Co-ordinator for the Scottish Food and Drink Federation talked about her role, helping to facilitate partnerships between schools and industry. She said: "The SFDF Schools Programme 'A Future in Food' works to foster mutually beneficial relationships between schools and the Scottish food and drink industry. We do this by helping teachers, pupils and parents better understand the sector and highlighting the wide variety of careers on offer.
"We also assist SQA in developing qualifications with industry which are quality-assured and provide learners with the skills, knowledge and confidence to be successful within this vibrant sector."
Emma Aitken, Home Economics teacher at Bathgate Academy added: "One of our new business links is a partnership with Macrae Edinburgh, a salmon processing company. Between us we have created the Seafood Challenge which will be run with our S3 pupils. The challenge will offer pupils the opportunity to develop a new seafood dish using product development strategies – this will involve the pupils going out on site visits to the factory and product development managers coming into school to chat to the pupils.
"We hope this project will engage our pupils in food manufacturing, allow them to see the opportunities in the industry, and inspire them to take up the new national qualifications in food and drink in S4 and beyond."
Katie Heslop, Group Human Resources Manager for AK Stoddart's said: "Our people are crucial to our business, but we have an aging workforce and skills shortages in a number of areas. By engaging with local schools and colleges and showing young people the job opportunities on offer in the food and drink sector, such as engineering and butchery, we are taking steps to ensure we've got a workforce that's fit for the future."
Colin Miller, Head of Service for STEM & Employer Engagement at West Lothian College said: "We are working with local schools to develop education, training and qualifications for the future. We are currently building links with Bathgate Academy and planning is underway to offer the National 5 Skills for Work in Food and Drink Manufacturing at the school. Successful learners will then be able to advance onto the National Progression Award (NPA) in Food Manufacture which we are offering here at the college. This could then lead onto studying for a HNC in Food Science and Technology.
"We are aiming to expand this type of collaborative partnership working to include other schools in West Lothian, cultivating learner progression through SQA's food and drink qualifications and supporting our local food manufacturing industry."
For more information about the successful partnerships between SQA, colleges, schools, employers, training providers, and industry representatives, and how they support learners across Scotland, visit www.sqa.org.uk/journeys.
Watch all of the food and drink videos in our YouTube playlist.