Award in Emergency Paediatric First Aid at SCQF level 6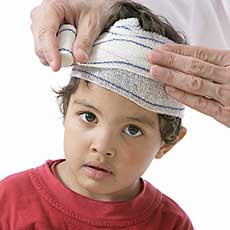 This award will finish on 31/07/2019. The new revised qualification is Award in Paediatric First Aid at SCQF level 6 GP72 46
Paediatrics is the branch of medicine that deals with the medical care of infants, children and adolescents from birth to 18 years of age.
Emergency Paediatric First Aid at SCQF level 6 is an accredited work-based qualification which will equip individuals with the skills and knowledge required to deal with a range of paediatric injuries and emergencies.
This qualification is available through SQA-approved centres with work-based employer engagement.
Use the tabs below to open each section individually. Alternatively you can show allhide all the sections.
Why deliver this qualification
Qualified first aiders save lives, because they have the knowledge and confidence to react appropriately in an emergency.
Employees who are qualified in first aid can help reduce accidents because they are more able to identify potentially dangerous situations.
This qualification is accredited by SQA and so is quality-assured.
Who does this qualification suit
Nursery and pre-school workers
Nannies and au pairs
Childminders
Sport and leisure staff
Crèche leader
Parents and anyone responsible for the welfare of children
Access
As with all SQA qualifications, entry is at the discretion of the centre.
Progression
This is a stand-alone work-based Award at SCQF level 6.
Candidates who complete the Emergency Paediatric First Aid Award can go on to complete the second Unit to gain the full Paediatric First Aid Group Award. 
Approval
Centres will have to come forward for approval and should contact the Business Development Team for guidance in completing the combined CA1/SA1 form.
Assessors and verifiers must be able to meet SQA's general requirements as outlined in the guide to approval for technical/occupational competence. In addition, assessors and verifiers must be able to meet the specific requirements for these qualifications. These requirements are detailed in the Assessment Guidance.
How to assess
This Unit must be assessed in accordance with the current Assessment Principles for First Aid Qualifications. The link to the Assessment Principles can be found in the Assessment Strategy and Guidance for Centres document.
They will be assessed using an observation checklist. This will ensure the standard is maintained. There are sample assessments contained in the assessor guidance for both the practical test and the knowledge-based questioning. 
Where can you take this course?
Qualification content and delivery tools
Information about the qualification(s)
Qualification Structure
Group Award Code: GL0Y 46 (53 KB)
The Emergency Paediatric First Aid qualification has one Unit:
Unit 1 — Emergency Paediatric First Aid HA15 33 
National Occupational Standards
Unit information for this qualification is available on our Unit Search.
Information about delivery, assessment, quality assurance and support material
Assessor's guidelines
Support materials
The following materials are provided as exemplars only.  Centres are free to adapt these to suit their own needs and preferences.
Offer this qualification