PDA in Strategic Leadership and Management at SCQF level 9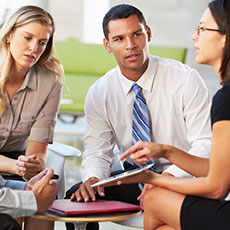 Professional Development Awards (PDAs) extend or broaden professional or vocational skills and are linked to National Occupational Standards.
The PDA in Strategic Leadership and Management at SCQF level 9 is designed for leaders and managers who contribute to strategic development in an organisation — as well as those who wish to enhance their awareness and understanding of the strategic process.
The PDA consists of two units (one mandatory and one optional) so that learners can achieve certification in a relatively short period of time.
This flexible award provides learners with 40 units to choose from, to suit individual needs.
This qualification is available through colleges, training providers and some employers.
Explore our range of flexible Professional Development Awards in Leadership and Management (151 KB)
Use the tabs below to open each section individually. Alternatively you can show allhide all the sections.
Why deliver this qualification
The PDA in Strategic Leadership and Management at SCQF level 9 has been developed in response to employers/centres looking for more flexible provision in management and leadership and is jointly certificated with the Chartered Management Institute (CMI).
The PDA in Strategic Leadership and Management at SCQF level 9:
can be achieved at work or through a college/training provider
has no formal entry requirements
provides recognition of leadership and managing skills
enables progression
enhances career prospects
It will help employers meet skills gaps and provide continuing professional development for staff, while learners will gain knowledge and skills needed for progression in the workplace or further study.
It can also be offered to people who are in training and who wish to gain employment in the sector.
This PDA provides progression routes to further study (see Progression).
Who does this qualification suit
The PDA in Strategic Leadership and Management at SCQF level 9 is aimed at leaders and managers who have some responsibility for their organisation's strategy. It will help build on current skills and knowledge to develop confidence and capabilities at a strategic level.
Access
Access to this award will be at the discretion of the centre. There should be no barriers to entry and the award should be open to all learners who have a reasonable chance of achieving it. It would, however, be beneficial if candidates had good communications skills. 
Progression
Learners completing a PDA in Strategic Leadership and Management will have many progression opportunities, for example other PDAs or SVQs in Management at SCQF level 9 and above.
Approval
Centres with devolved authority for approval should use their own internal approval process.
Centres without devolved authority require to come forward for approval and should contact SQA's Business Development Team for guidance.
Assessors and verifiers must be able to meet SQA's general requirements for technical/occupational competence as outlined in the Systems and Qualification Approval Guide.
How to assess
The qualification consists of a mandatory leadership unit and a wide range of optional units.  Candidates will be supported by a qualified assessor and can work through their qualification at their own pace. However, it is likely that assessment plans agreed between assessor and candidate will include target dates for completion of specific parts of each unit.
The individual unit specifications and assessment strategy provide information on the evidence requirements and approaches to assessment for each unit.
Where can you take this course?
Qualification Structure
Group award code: GM0M 49
Structure
The PDA in Strategic Leadership and Management at SCQF level 9 consists of one mandatory unit and one optional unit taken from a wide range of options.
Group Award Specification