SQA logs on and supports Safer Internet Day 2017
Monday 06 February 2017
S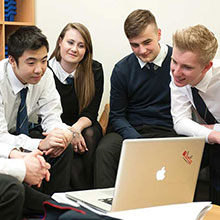 afer Internet Day is Tuesday 07 February, and SQA is encouraging its centres, customers, and candidates to back the campaign and 'unite for a better Internet'.
Organised by the UK Safer Internet Centre, Safer Internet Day 2017 mobilises hundreds of organisations across the country, to encourage and promote positive online behaviour, and safer use of digital technology.
As part of the campaign activities, we are participating in the Safer Internet Day Thunderclap, a simultaneous social media update issued by all the registered supporters at the same time on 07 February, which will reach over 3 million users in the UK alone.
Over the course the week, we'll share links to dozens of hints and tips with our followers on Twitter, Facebook, and LinkedIn on how to stay safe online.
From confirming the security settings on a new phone, tablet or other devices, to password protecting a home Wi-Fi network, or setting up two-step verification on an email account, and taking a few minutes to read over the permissions agreed to when downloading the latest apps, there are many of ways individuals can improve their online safety.
Emma Campos, Qualifications Officer with SQA's Computing Team, said "SQA also offers a number of qualifications and awards that promote positive online behaviour. Our Internet Safety Award, is a great example of an introductory qualification that beginners can use to familiarise themselves with the principles of online safety. It covers topics including cyber bullying, identity theft, and ransomware or malware, and allows learners to develop the skills they need to protect themselves. We also offer it to school pupils as part of their work experience placement with us."
Bobby Elliot, SQA's Computing Qualification Manager, lead the team that was responsible for developing SQA's suite of Cyber Security National Progression Awards. Bobby said; "Since they were launched 18 months ago, almost 30 SQA centres are now delivering our Cyber Security National Progression Awards to young people across the country. The NPA gives learners an excellent opportunity to identify, understand and manage the host of online threats organisations and individuals face on a daily basis."
Alastair MacGregor, Head of Science, Technology, Engineering, and Maths at SQA, said: "Increasingly we all spend much of our work, study, and free time online. While young people are often the most at ease with this, they may still require some guidance to help them make good decisions and build good online habits. Our portfolio of computing qualifications, have been developed in partnership with industry experts and capture the interest of learners, providing an excellent starting point for those keen to develop their skills and embark upon a career in digital security."
SQA has a suite of complementary computing awards including Digital Literacy, Digital Passport, and PC Passport, all of which help to develop and build learners' knowledge and understanding of digital and online technologies.
Many of the tips SQA will share are publicly available on its open learning resource platform Ushare, where learners can share, and comment on links to useful online materials that can support them in their studies for SQA qualifications.
Register your support and get involved in Safer Internet Day 2017. Follow @UK_SIC, and tag #SID2017 in your updates.