Skills for Work: Textiles Industry National 5 (SCQF level 5)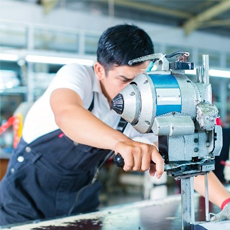 Skills for Work: Textiles Industry at National 5 is an introductory qualification in textiles. It develops the skills, knowledge and attitudes needed for work in the textiles industry.
Learners will develop:
knowledge of the scope of job roles within the textiles manufacturing industry
knowledge of the journey taken by textiles products from raw material to finished product
practical skills used in the textiles manufacturing industry
knowledge of how to become effective job seekers and employees in the textile manufacturing industry
a positive and responsible attitude to work
communication and team-working skills
This qualification provides a general overview of the textiles manufacturing industry, introducing learners to its diversity. A range of textile products and processes are used, giving learners the opportunity to develop their knowledge. Textile fibres, functions and structures are explored in an industrial context, giving learners opportunities to understand the environmental considerations of the textiles industry.
This qualification is available through schools and colleges.
Use the tabs below to open each section individually. Alternatively you can show allhide all the sections.
Why deliver this qualification
The industry faces significant recruitment challenges over the next 5–10 years as the current workforce ages, and this qualification will help to stimulate interest in the sector amongst young people and create a 'skills pipeline' of new recruits.
The Skills for Work: Textiles Industry at National 5 qualification is made of  three units. The units have been designed to be delivered in an integrated way, and guidance on a suggested teaching pattern is given in the Course Specification.
The qualification has been developed to introduce learners to the exciting and diverse textiles industry and to stimulate their interest in considering a career in it.
There is opportunity for flexibility of topics and contexts in the delivery of the units to facilitate personalisation and choice for learners and centres, and to allow new and stimulating contexts for learning to be built into the course.
The course should build on existing partnerships between schools, colleges of further education, employers and other training providers. Such partnerships will enable the course to be delivered in a variety of appropriate learning environments with access to relevant teaching expertise.
Who does this qualification suit
This qualification is suitable for a wide range of learners including:
pupils from mainstream schools or other education establishments
school leavers
adult returners to education
learners in employment who wish to enhance their career prospects
learners participating in 16+ programmes
college students wishing to develop their skills and knowledge in relation to the Textile Manufacturing Industry
trainees participating in preparation for entering employment
individuals involved in voluntary activities
Access
Entry is at the discretion of the centre.
Progression
Successful learners may progress further education, where the following courses are available:
PDA Contemporary Fashion Corsetry
HNC/D Fashion: Design and Production with Retail
HNC/D Fashion Design and Manufacture
NC Fashion Design and Manufacture
HNC/D Fashion Technology and Manufacture with Design
HNC/D Fashion Design and Manufacture
NC Fashion Design and Manufacture
PDA Textile Design for Garments
NPA Harris Tweed
SVQ in Kilt Making – SCQF Level 6
They can also go straight into employment, where a vocational qualification can be undertaken in Manufacturing Textile Products.
Approval
Centres interested in offering this qualification must come forward for approval and should contact SQA's Business Development Team for guidance.
Assessors and verifiers must be able to meet SQA's general requirements for technical/occupational competence as outlined in the Systems and Qualification Approval Guide. The specific delivery requirements are set out in the Group Award Specification (Arrangements Document).
How to assess
There is no external assessment for this course. Learners must successfully complete each unit to achieve the course.
Unit specifications provide detailed information on the evidence requirements for each unit. The unit support notes provide information on approaches to assessment for each unit.
The units are internally assessed by centres and externally verified by SQA.
Where can you take this course?
Qualification content and delivery tools
Qualification structure
Group Award code:  C780 75
SCQF level: 5
The Skills for Work Course in the Textiles Industry consists of three mandatory Units.
For further information on the structure and units of this qualification please refer to the Course Specification document.
Unit information for this qualification is available on our National Qualification Unit Search
Offer this qualification