SQA celebrates exam achievements of care-experienced candidates
SQA has delivered results certificates to over 135,000 candidates all across Scotland – including to a group of care-experienced young people at a special celebration in Glasgow.

As a corporate parent, SQA in partnership with Who Cares Scotland, and MCR Pathways – charities that support young people from care backgrounds – arranged a celebration for young people from across the country, many of whom were receiving results for the first time.

Unlike the thousands of other candidates across the country who had to rely on the postie, or SQA's text and email service to get their results, the group of 20 young people had their certificates hand delivered to them by John Swinney MSP, Deputy First Minister, and Cabinet Secretary for Education and Skills.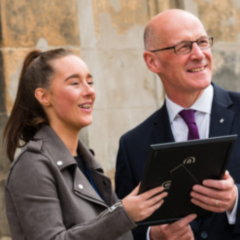 Morgan Jeffrys, a pupil from Linlithgow Academy, receives her SQA results from John Swinney MSP, Deputy First Minister, and Cabinet Secretary for Education and Skills
Among the candidates to receive their results from the Deputy First Minister was Morgan Jeffrys, a former pupil from Linlithgow Academy, who received results for Highers, and National 5 courses. Morgan spoke about she was feeling after she received her certificate.
She said: "It was nerve wracking, but really exciting. I'm really pleased with what I've got! I'm hoping to join the police, and I'm going to volunteer as a Special Constable for the next couple of years to build some experience."

SQA Chairman, David Middleton, said: "With 2018 being the Year of Young People, and SQA taking a leading role as a responsible corporate parent, it is more important than ever that we provide young people, no matter their background, with the opportunities they need to demonstrate their talent, and help them celebrate their achievements.

"A young person's background should have no bearing on their opportunity to succeed, and it has been inspiring to hear directly from young people here today about their hopes and ambitions, and get a sense of the effort and work they have put into their studies. Today was no exception and on behalf of the SQA Board and all SQA staff, I'd like to congratulate them."
Deputy First Minister John Swinney said: "Results day is an opportunity for our young people to celebrate all the hard work they have put in over the previous year and it is no different for learners who grow up in the care system. The reality is that certain opportunities are not as easily available for those with care experience compared to their peers but the young people I have met today definitely have not let that stop them.

"This Government's ambition is to make Scotland the best place to grow up, that means equal opportunities whatever your background. Which is exactly why we are taking part in a nationwide conversation with those whose voices matter most, as part of the First Ministers commitment to an independent root and branch review of the care system.

"I would like to thank SQA for this great example of corporate parenting, providing a platform for care experienced young people to showcase their achievements. But most of all I would like to thank the young people for inviting me to take part in such an important and special day, it is a privilege to be able to help you celebrate and I look forward to seeing what you go on to do next."

SQA Chief Executive, Dr Janet Brown, said: "Today's celebrations are a real reminder that we do enables young people to realise their ambitions. Our qualifications provide a variety of routes to success, but it is the drive and commitment of our candidates, no matter their background, that delivers their goals. We are wholly committed to fulfilling our role as a corporate parent and I can vouch for our whole team when I say we are immensely proud of achievements of the young people we support."

Kevin Browne-Macleod, Director of Care Experienced Membership at Who Cares? Scotland, said: "Our members have often told us how difficult they find it when they can't celebrate achievements they are proud of in the way many of their friends do. Educational achievement for care experienced people should always be celebrated. We have been incredibly supportive of SQA's continued attempts, as part of their corporate parenting role, to act like all loving parents would and to celebrate their children's success with their children. We are delighted that they are doing this again in 2018."

Elizabeth-Anne Collier from MCR Pathways, said: "Care experienced young people face some of the most challenging educational outcomes in Scotland. This event, and the achievements of the young people in attendance, show that this doesn't have to be the case. With the right support from their MCR Mentor, their corporate parents on their side and with their communities championing them, young people in care can have an equal chance at a positive future."