Real Responsibilities - Scottish Apprenticeship Week 2019
Monday 04 March 2019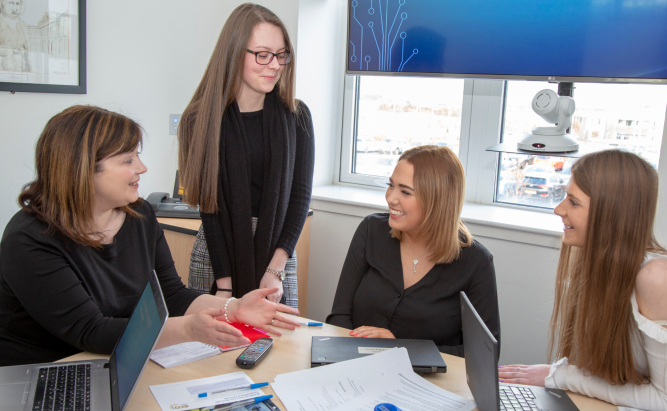 Sarah Anne Rooney with SQA Modern Apprentices Lindsey Burke, Anna McGowan, and Lauren Graham
As Scotland's national awarding and accreditation body, SQA provides a wide range of high quality, widely recognised qualifications. The qualifications and associated services we offer enable individuals and organisations to realise their ambitions and achieve their potential.
SQA is a significant employer in two local areas. Currently over 900 staff work with SQA at its sites in Dalkeith in Midlothian and in Glasgow. Maidie Cahill, Director of Corporate Services at SQA says: "It's our people who continually deliver for our customers: the schools, colleges, training providers, employers and institutions that deliver our qualifications or use our assessment services throughout Scotland, across the rest of the UK and around the world."
Cahill continues: "As a responsible employer, we have to ensure that our staff have opportunities to develop and enhance their careers. This is particularly pertinent to those young people taking their first steps into the world of work, and it is why SQA developed its Pathways Modern Apprenticeship programme."
"What the Modern Apprenticeship has allowed me to do is to take some time to develop my skills... I will have relevant work experience and gain some really good qualifications which is more than I would have if I went to university straight from school"
Lindsey Burke, SQA Modern Apprentice
The SQA's Pathways programme relies upon collaboration: between SQA as the employer, Drumbeat and Lifelong Learning and Employability, external training providers; as well as both City of Glasgow and Edinburgh colleges.
At the heart of this partnership is a cohort of enthusiastic Modern Apprentices who, over the course of a two-year placement, gather relevant work experience across a variety of work areas – including finance, HR, business systems, and corporate governance – all while completing a Scottish Vocational Qualification (SVQ) in business and administration, as well as a Higher National Certificate (HNC) in business, offering a blend of academic learning and practical skills to take forward into business and administrative positions.
Elaine Gourlay, Head of Organisational Development and Change Management at SQA says the advantage of the SQA Pathways programme is the opportunity for Modern Apprentices to gain workplace-based qualifications that have real transferable value either into further education and training or into employment.
Gourlay adds: "Modern Apprentices at SQA are working members of our teams. They have meaningful, value-adding work, real responsibilities and are accountable for their performance and contribution. While they are with us, we ensure that they are supported in their development and are able to gain the skills and experience they need to complete their SVQ and their HNC."
And that support network is vital. Sarah Anne Rooney, SQA Employee Development Programme Manager, outlines the steps taken to provide SQA's Modern Apprentices with a support network to help them make the most of their placement.
Rooney explains that while SQA Modern Apprentices complete four six-month 'rotations' into a variety of business areas during their placement, they work closely with experienced line managers who help them develop their skills.
They also work with internal assessors who help them to evidence those skills, and a mentor who, over the two years, helps them to identify and plan for their future career aspirations.
Those relationships are crucial. "The interaction between the line-managers, the mentor, and the assessor are key to the apprentice succeeding in their position," adds Rooney. "They are responsible for ensuring the apprentice knows what they are doing, and more importantly, why they are doing it. A workplace is a very different environment from a school, and Modern Apprentices need that additional support to help them make a success of the transition."
Working with independent external training providers such as Drumbeat and Lifelong Learning and Employability, ensures the evidence generated by the apprentice is handled fairly and transparently, and that the apprentice receives fair and independent support throughout their time with SQA.
As part of the SQA Pathways programme, SQA's Modern Apprentices based at its Glasgow office attend City of Glasgow College, while those based in Dalkeith attend Edinburgh College, where they all undertake additional qualifications – a part-time HNC in business over two years, which includes, in their first year, a Scottish Credit and Qualifications Framework level 7 communications unit.
Nicola Darroch, Curriculum Head at City of Glasgow College, says: "The SQA Modern Apprentices have come to the college with a real sense of purpose. The experience they're getting in the workplace is translating well into their coursework, and giving them a great platform from which they can take their next steps."
At the centre of the process is, of course, the Modern Apprentices themselves. Lindsey Burke and Anna McGowan are midway through their first year of their Modern Apprenticeships in business and apprenticeshipsadministration. Lindsey has been on a six-month placement with SQA's Data Solutions team, while Anna has been working on the IT Service desk, assisting with colleagues' technical enquiries.
Both young women had other options available to them when they left school, but both felt that a two-year Modern Apprenticeship – with the opportunity to earn recognised qualifications – would give them the best start to their careers. Burke comments: "What the Modern Apprenticeship has allowed me to do is to take some time to develop my skills and build some experience. If I want to go to university or get another position after I've completed my time with SQA, then I still can. I will have relevant work experience and some really good qualifications which is more than I would have if I went to university straight from school."
For the SQA, the successful outcome of the Pathways programme is to equip its Modern Apprentices, such as McGovern and Burke, with the skills, experience, and Apprenticeperhaps most importantly, the confidence they will need to continue their personal and professional development. Sarah Anne Rooney adds: "A Modern Apprenticeship isn't a guarantee of a full-time job, however the Pathways programme is a demonstration of our responsibilities and our commitment to developing the young workforce, to young people across Scotland.
"It's our responsibility to work in partnership with colleges and training providers to offer a commitment to a young person, that we will support them with their learning, we will provide them with appropriate on-the-job training, and that we will give them the opportunity to achieve recognised, relevant qualifications."
For more information on how SQA qualifications support apprenticeships in Scotland, and our own Pathways Modern Apprenticeship programme, visit www.sqa.org.uk/apprenticeships
This article first appeared in Holyrood magazine's Skills and Apprenticeships supplement - published Monday 24 February.