Customer Service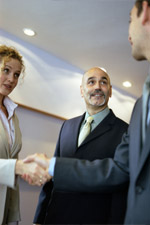 Who are the Awards aimed at?
The SVQs in Customer Services are designed for people working in a wide variety of sectors whose job involves dealing with customers – either internal or external customers. They can be used for people whose role is entirely customer service focussed, as well as those for whom customer service is only part of their role.
The qualifications assess the skills and knowledge people need to perform their job role effectively and are based on the National Occupational Standards (NOS) for Customer Service. This means that someone achieving an SVQ is able to prove they have the skills and knowledge to do the job to the standard of competence defined nationally by the industry.
How are the Awards delivered and assessed?
Customer Service impacts on all occupational sectors and these qualifications can be embedded in a company's normal training and development process or can be taken as part of an apprenticeship training programme.
The SVQs in Customer Service are designed to be assessed in the workplace so candidates don't need to spend lots of time away from their work undertaking the qualification which also minimises costs.
The Units/National Occupational Standards making up the SVQs in Customer Service are contained in the Candidate Portfolio Documents.
News
The SVQ in Customer Service at levels 1, 2, 3 and 4 are due to lapse on 31 December 2015. SQA is preparing its submission for re-accreditation and the new SVQs should be available for delivery from 1 January 2016. There will be the usual run out period to allow candidates registered on the current SVQs to complete the awards. For levels 1 and 2 this is 2 years, so all candidates need to be certificated by 31 December 2017. For levels 3 and 4 the run out period is 4 years, so all candidates must be certificated by 31 December 2019.
Use the tabs below to open each section individually. Alternatively you can show allhide all the sections.
Where can you take this course?
Qualification content and delivery tools
Information about the qualification(s)
National Occupational Standards
Evidence Requirements
Information about delivery, assessment, quality assurance and support material
Assessment strategy
Assessor's guidelines
Blank Recording Forms
Customer Service (2010 Awards)
---
Candidate Guidance and Portfolio
Candidate Disclaimer for SVQ Portfolio
Candidate Portfolios for 2010 Awards (including the Units/National Occupational Standards (NOS)
Candidate Portfolios for 2006 Awards - lapsed awards
Internal Assessment Reports
Internal Assessment Reports were formerly known as Senior Verifier Reports.
Feedback form
SQA would welcome your views, comments or feedback on the standards, qualification structures and guidance for the SVQs and NVQs in Customer Service.
Please send your feedback to: elaine.snell@sqa.org.uk
Candidate Support Packs
To assist with knowledge requirements, SQA has produced support materials for the two mandatory Units of SVQ 2 Customer Service.  Your centre's SQA Co-ordinator will have access to these support materials on SQA's secure website. Please approach them for access.
Work is also underway on the development of similar packs for the two mandatory Units of level 3.  
SQA has also developed an on-line question bank to assist centres assess the knowledge requirements of mandatory Units in SVQ 2 in Customer Service [GA3922] and SVQ 3 in Customer Service [GA52 23].
For further information on this resource, please contact the SOLAR support team on solar@sqa.org.uk
Offer this qualification