Information for Employers and Training Providers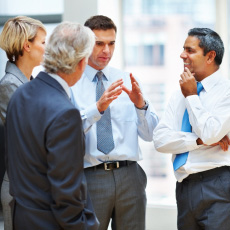 Find out how we can help you:
SQA is an experienced awarding organisation with a global reputation for quality and service. We offer flexible qualifications and services that provide a range of opportunities for employers, training providers, professional bodies, awarding bodies, schools or colleges across the UK and internationally.
It's a proven fact that trained and qualified staff are more motivated, more reliable and more productive. Through your own advisor, we give you all the support you need to connect with SQA.
IBM is delighted to be associated with SQA. The Scottish Vocational Qualifications (SVQs) offered are valued by our employees and combining work experience with formal qualifications is a real benefit to IBM. IBM offer IT Professional, Customer Service, Supply Chain Management and Management SVQs through the Modern Apprenticeship programme which have proved popular with our employees. We have witnessed an increased self awareness of skills and experience and impressive personal development for participants.
Barry McGugan,
Greenock Communications Training and Innovations Manager,
IBM Greenock
Our Services
As well as offering and endorsing qualifications and training, we also provide other services to business and training providers.