HNC and HND Computer Games Development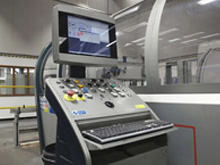 The HNC and HND Computer Games Development awards allows the candidate to develop a range of contemporary vocational skills relating to the development of computer games appropriate to employment at junior developer level (or equivalent) and provide a flexible curriculum to meet the needs of candidates in employment, recognising their existing experience.
The awards gives the candidate the opportunity to work as part of a games design team and to integrate the knowledge and skills contained in the mandatory and optional units, as a large proportion of units take a 'project' approach, using the product of a previous assessment as the foundation of the next. Such project scenarios will all favour a games design and development approach, to give the candidate a true reflection of how items being studied integrate and relate to industrial practice.
Use the tabs below to open each section individually. Alternatively you can show allhide all the sections.
Group Award Specification
Assessment Exemplars

HN Assessment Exemplars
Your centre's SQA Co-ordinator will have access to these HN Assessment Exemplars on SQA's website. Please approach them for copies.
---
| | |
| --- | --- |
| Title: | 2D Animation |
| Unit: | F209 34 |
| Publication: | F209 34 |
| Edition: | 1st Edition, April 2011 |
---
| | |
| --- | --- |
| Title: | Computer Operating Systems 1 Exemplar |
| Unit: | DH33 34 |
| Publication: | CB3268 |
| Edition: | 1st Edition, August 2006 |
---
| | |
| --- | --- |
| Title: | Computing Planning Exemplar |
| Unit: | DH35 34 |
| Publication: | CB3270 |
| Edition: | 1st Edition, August 2006 |
---
| | |
| --- | --- |
| Title: | Professional Issues in Computing Exemplar |
| Unit: | D76H 35 |
| Publication: | CB3456 |
| Edition: | 1st Edition, November 2006 |
---
| | |
| --- | --- |
| Title: | 3D Modelling and Animation Exemplar |
| Unit: | DE2N 35 |
| Publication: | DE2N 35/AEX001 |
| Edition: | 1st Edition, January 2011 |
---
| | |
| --- | --- |
| Title: | Computer Games Develoment: Object Oriented Programming Exemplar |
| Unit: | F86A 35 |
| Publication: | F86A 35/AEX001 |
| Edition: | 1st Edition, January 2011 |
---
| | |
| --- | --- |
| Title: | 3D Level Editing Exemplar |
| Unit: | F869 34 |
| Publication: | F869 34/AEX001 |
| Edition: | 1st Edition, January 2011 |
---
| | |
| --- | --- |
| Title: | Games Design Pitch to Treatment |
| Unit: | F88D 34 |
| Publication: | F88D 34/AEX001 |
| Edition: | 1st Edition, April 2011 |
| Downloads: | Games Design Pitch to Treatment Exemplar |
---
| | |
| --- | --- |
| Title: | Game Technology |
| Unit: | F8M3 34 |
| Publication: | F8M3 34/AEX001 |
| Edition: | 1st Edition, April 2011 |
| Downloads: | Game Technology Exemplar |
---
| | |
| --- | --- |
| Title: | History Evolution and Impact of Computer Games |
| Unit: | F86J 34 |
| Publication: | F86J 34/AEX001 |
| Edition: | 1st Edition, April 2011 |
| Downloads: | History Evolution and Impact of Computer Games Exemplar |
---
| | |
| --- | --- |
| Title: | Mathematics - Calculus and Matrices for Computing |
| Unit: | DP8F 34 |
| Publication: | DP8F 34/AEX001 |
| Edition: | 1st Edition, April 2011 |
| Downloads: | Mathematics - Calculus and Matrices for Computing Exemplar |
---
| | |
| --- | --- |
| Title: | Structured Programming for Games |
| Unit: | F8HC 34 |
| Publication: | F8HC 34/AEX001 |
| Edition: | 1st Edition, September 2011 |
| Downloads: | Structured Programming for Games |
---