Army Preparation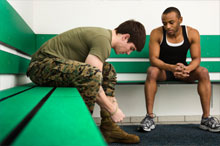 The National Certificate (NC) in Army Preparation at SCQF level 4 gives learners the knowledge, understanding and skills required to present for successful recruitment for the Army. The NC also prepares candidates for civilian employment or for progression to further academic and/or professional qualifications.
The Army has been involved in the development of this NC. The Units meet Army needs as an employer, though they will be equally useful in other employment areas. This qualification is a good vehicle for gaining Core Skills, building confidence and self esteem and developing team working skills.
Learners who achieve the NC should have reached the fitness level required for entry to the Army.
This qualification has a restricted availability in colleges and with training providers.
Use the tabs below to open each section individually. Alternatively you can show allhide all the sections.
Why deliver this qualification
Offering the NC in Army Preparation could potentially attract a broader range of candidates to further education.
The NC is typically run full-time and delivery can be tailored to suit the needs of the candidate with learning set at a suitable pace and level.
The focus of the NC is based on practical activity and, as such, is unlikely to be suitable for distance or open learning delivery mode.
This qualification is nationally-recognised.
Who does this qualification suit
The NC in Army Preparation is primarily designed for learners interested in entering a career with the Army. It also opens up the possibility of continued study for candidates. The qualification is commonly taken by those who have not done so well in conventional schooling and have had low confidence and motivation.
Successful achievement leads to the candidate being certificated for four Core Skills, and will leave them in a better position to make an informed choice about a career in the Army.
Access
No formal entry qualifications are required. Access to the NC will be at the discretion of the centre. It is open to all learners who have a reasonable chance of achievement.
Progression
The NC in Army Preparation is designed to equip learners with the skills and knowledge required to meet the entry requirements of the Army, and to make an informed choice with regards to a career in the Army.
The Core Skills and transferable skills included make it suitable for a wide variety of employment opportunities or progression into further education.
Approval
Centres with devolved authority are eligible to seek approval through their own internal approval process.
Centres without devolved authority will have to come forward for approval and should contact the Business Development Team for guidance in completing the combined CA1/SA1 form.
Assessors and verifiers must be able to meet SQA's general requirements as outlined in the guide to approval.
How to assess
Assessments are practical/task based where possible. There may be aspects of some Units, such as Accident Prevention and Emergency Procedures and Map Reading and Land Navigation which may lend themselves to e-assessment.
Assessment Support Packs (ASPs) for the following Units are available to download from SQA's secure site: Accident Prevention and Emergency Procedures; Assist with an Event; Fitness for the Army; and Map Reading and Land Navigation. ASPs are also available for the Core Skills Units.
Where can you take this course?
Qualification content and delivery tools
Unit(s) and delivery tools
Group Award code:G970 44 (72 SCQF credit points)
SCQF level: 4
Structure
The NC comprises six mandatory Units and up to seven optional Units.
Mandatory Units
Accident Prevention and Emergency Procedures — F5FK 10
Communication — F3GB 10
Numeracy — F3GF 10
Information and Communication Technology — F3GC 10
Map Reading and Land Navigation — F5FH 11
Assist with an Event — F5FJ 10
The Course framework includes the Unit, Fitness for the Army (F5FL 10), which meets the Army's minimum entry requirements for physical fitness. Since not all candidates will choose a career in the Army, it is possible to certify the Group Award without achieving this Unit. Candidates not selecting this Unit must complete the Exercise and Fitness Units (D677 11 and D678 11). The structure also allows candidates to take all three Units if desired.
The full structure showing the optional Units is available in Section 5 of the Course Arrangements document .
Other
The NC is mapped to the National Occupational Standards (NOS).
Arrangements Documents
Course Overview and Skills Development Summary
Offer this qualification