The Scottish Baccalaureate in Social Sciences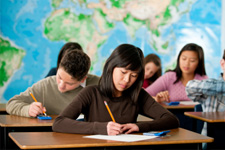 The Scottish Baccalaureate in Social Sciences has been designed to provide a challenging and rewarding experience for candidates in fifth and sixth year of secondary school.
It is based on a coherent group of subjects at Higher and Advanced Higher level with the addition of the Interdisciplinary Project, which offers added breadth and value and helps to equip the candidate with the generic skills, attitudes and confidence necessary to make the transition into Higher Education and/or employment.
Baccalaureates News
Key Dates 2016/17
Key dates for centres for session 2016/17 are:
Application for Approval (IP1 form (636 KB)) should be submitted by end of September 2016
Candidate entries should be submitted by November 2016
Results for the IP Unit should be submitted by 31 March 2017. All assessment and internal verification should be completed before the IP Unit result is submitted.  
Use the tabs below to open each section individually. Alternatively you can show allhide all the sections.
Mandatory Components
The Scottish Baccalaureate in Social Sciences requires two, different eligible Social Science Courses, at least one of which must be at Advanced Higher level.
The mandatory components of the Baccalaureate are:
Language Baccalaureate mandatory components

| | | | |
| --- | --- | --- | --- |
| Interdisciplinary Project Unit | Advanced Higher | SCQF level 7 | (16 SCQF points) |
| 2 eligible Courses | Advanced Higher | SCQF level 7 | (64 SCQF points) |
| 1 eligible Course | Higher | SCQF level 6 | (24 SCQF points) |
One of the above Courses must be English* (or ESOL or Gàidhlig*) or Mathematics* (or Mathematics of Mechanics* or Statistics*) and this may be at Higher or Advanced Higher level.
Components do not have to be completed in the same academic year, for example a Higher course completed in S5 can contribute.
The Interdisciplinary Project Unit will be graded A, B or C.
Entry
Candidates should be entered for both the Baccalaureate award and for the Interdisciplinary Project. The codes are as follows:
Social Sciences Baccalaureate
Baccalaureate award – GE9W 47
Interdisciplinary Project – H186 47
Criteria for award of Pass and Distinction
Criteria for award of Distinction
The Scottish Baccalaureate in Social Sciences with Distinction will be awarded to candidates who achieve:
Grade A in one Advanced Higher eligible Course
Grade A in any other component
Grade B or above in all other components
Criteria for award of Pass
Candidates who achieve at least Grade C in all mandatory components and who do not meet the criteria for Distinction will be awarded a Pass in the Scottish Baccalaureate in Social Sciences.
Approval and Quality Assurance
Eligible Courses in the Social Sciences Framework
Candidates may choose two core courses, or one core course and one broadening course from the following lists:
| | |
| --- | --- |
| Core Courses | Broadening Courses |
| Classic Studies* | Accounting* |
| Economics* | Business Management* |
| Geography* | Environmental Science |
| History* |   |
| Modern Studies* |   |
| Philosophy |   |
| Politics |   |
| Psychology |   |
| Religious, Moral and Philosophical Studies* |   |
| Sociology |   |
* Currently available at Advanced Higher level
Eligible courses have been updated in line with the Higher and Advanced Higher courses available from August 2015. Higher and Advanced Higher Courses that were previously available and contributed to the Scottish Baccalaureate award will still contribute.
SQA's course catalogue is kept under constant review. New courses may be added, or existing courses may be deleted or replaced
Arrangements
Unit Specification
National Unit Specifications for the Interdisciplinary Project can be accessed by using the link below.
Assessment Support Packs
Social Sciences ASP
Section 10 - Templates for Candidates and Assessors in Word format
Video Case Studies
Social Sciences Overview
Kathleen's Experience
Kirsten's Experience
Alex's Experience
Roslyn's Experience
Geira's Experience
Candidate Guide
Assessment Exemplars
New Exemplars and Commentaries from Session 2012/13
Fictional Exemplars and Commentaries
Internal Assessment Report