SVQ 3 Laboratory and Associated Technical Activities (Industrial Science)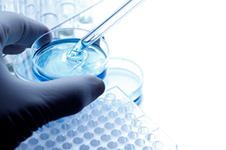 SQA offers Laboratory and Associated Technical Activities (Industrial Science) at Level 2 and 3.
These SVQs are based on the National Occupational Standards (NOS) set and published by the Sector Skills Council for the sector, SEMTA.
The standards provide an accurate and detailed definition of what candidates must know, understand and be able to do. These SVQs will enable those working in this sector to develop the knowledge and skills required to demonstrate competence in their job role.
Use the tabs below to open each section individually. Alternatively you can show allhide all the sections.
Why deliver this qualification
The SVQs in Laboratory and Associated Technical Activities meet the employment needs of laboratory and technical staff and the SVQs can be offered at any time and do not need to follow the academic session.
The qualifications provide candidates with the knowledge and skills to enable them to develop practical research skills.
Who does this qualification suit
The SVQs in Laboratory and Associated Technical Activities are suitable for candidates working in a variety of professions, eg scientific laboratories.
Access
Entry is at the discretion of the centre. The nature of the qualifications is such that candidates should be in a work role or placement which will allows them to demonstrate competence in practical tasks.
Progression
There are opportunities for progression to other science qualifications.
Approval
Centres with devolved authority are eligible to seek approval through their own internal approval process.
Centres without devolved authority will have to come forward for approval and should contact the Business Development Team for guidance in completing the combined CA1/SA1 form.
Assessors and verifiers must be able to meet SQA's general requirements as outlined in the guide to approval .
How to assess
Assessment is of competence demonstrated in the workplace.
Assessment is integrated with delivery and focuses on evidence of carrying out work activities.
Where can you take this course?
Qualification content and delivery tools
Information about the qualification(s)
Qualification Structure
National Occupational Standards
Awarding partnership arrangements
This award is jointly awarded with B&ES (SVQ.
Modern Apprenticeship
GE4C 23 is also part of Life Science L3.
Information about delivery, assessment, quality assurance and support material
Assessment strategy
Assessor's guidelines
Candidate Guidance and Portfolio
Internal Assessment Reports
Offer this qualification