SVQs in Business and Administration (2015)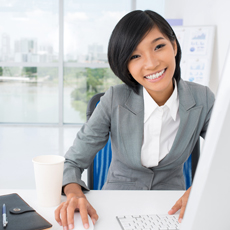 Scottish Vocational Qualifications (SVQs) in Business and Administration are designed to equip those working in business and administration with the skills and knowledge they need to demonstrate competence in their job role.
The SVQ at Level 1 is about following routine procedures in an office, supporting work procedures and understanding how to communicate in a business environment.
Level 2 involves a greater range of activities with some degree of complexity and limited autonomy. Mandatory Units cover undertaking allocated work, communicating and managing own performance in a business environment. There is a wide range of optional Units including document production, supporting events, meetings and diaries, customer service, IT and various specialist administrative functions.
At Level 3, candidates have a broad range of activities with significant complexity, responsibility and autonomy, often in a supervisory or team-leading role. Mandatory Units cover managing workload, communicating and planning, and improving own performance in a business environment. There is again a wide range of optional Units including work responsibilities, document production and design, managing events, customer service, managing business resources, and managing information and data.
Level 4 candidates will normally be managers with responsibility for staff and/or financial or other resources. Mandatory Units involve managing and being accountable for own performance and managing work and communication in a business environment. Optional Units include business support services, project management, managing business resources, innovation and change, managing Information and data, customer service and communication.
These qualifications are available through colleges and training providers.
Find further information on lapsing qualifications in Business and Administration.
Important information
As of 1 September 2016, all SVQs with an established SCQF level no longer include the SVQ level in their titles. Please note that our web pages and documents will gradually be updated over time as the SVQs are reviewed, so may still contain the existing titles. More information on SCQF levels can be found on our SCQF web page.
SVQ Business and Administration Network Events 2017
Two events will take place this year, one in Glasgow on 9th May 2017 and one in Edinburgh on 16th May.
The events will provide centres with an opportunity to network, share good practice and provide feedback to SQA. Updates will be provided by the SQA Qualifications Team and Senior External Verifier.
Items covered will include - interpreting assessment standards, making assessment decisions, examples of best practice and an update on the new Level 4 (SCQF Level 8) Business and Administration SVQ.
We can only permit one delegate per centre to attend either of the events, and priority is given to centres currently approved for the Business and Administration SVQs. Places can be booked on our event booking system.
Extension - SVQ Business and Administration Level 4 (SCQF Level 7) GA3Y 24
The lapse date of the Level 4 SVQ in Business and Administration (GA3Y 24) has been extended, with a new provisional lapse date of 31/12/2017. This decision was taken as the Technical Apprenticeship to accompany the new Level 4 SVQ in Business and Administration at SCQF Level 8 will not be available in time for the original lapse date of 31/12/2016.

A definitive date for the introduction of the new Level 4 Business and Administration SVQ at SCQF Level 8 cannot be provided at present, as this is subject to the workflow of SDS and Skills CFA who will be developing the new Apprenticeship. However it is SQA's intention to give centres three months notice prior to the introduction of the new Level 4 (SCQF 8) SVQ when the necessary details are confirmed.
The new lapse date of 31/12/2017 was selected to avoid the need for any further extension and therefore provide centres with as much clarity and certainty as possible regarding the date of transition. SQA's hope is that the transition to the new SVQ can take place well before 31/12/2017 pending the workflow referred to being completed within the expected timeframe. It is recommended that centres check this webpage and/or the SQA Centre News regularly for updates.
Use the tabs below to open each section individually. Alternatively you can show allhide all the sections.
Why deliver this qualification
Upon successful completion, learners gain an internationally recognised qualification which demonstrates that they have the skills, knowledge and behaviours required to carry out their role successfully.  Employers benefit from competent and motivated staff.
SVQs are assessed in the workplace. This minimises the time candidates require outside the workplace to complete the qualification.
Who does this qualification suit
SVQs in Business and Administration are designed for people at various levels within business organisations and are therefore appropriate to many job roles from junior administrators through to office managers.
Access
Entry is at the discretion of the centre. This is a work-based qualification, therefore candidates should be in a job role which enables them to provide the required evidence in a working environment.
Progression
There is some overlap of Units between the different levels of SVQ Business and Administration — helping candidates to progress to higher level SVQs as their job role develops or changes.
Approval
Centres with devolved authority for approval should use their own internal approval process.
Centres without devolved authority will have to come forward for approval and should contact SQA's Business Development Team for guidance.
Assessors and verifiers must be able to meet SQA's general requirements for technical/occupational competence as outlined in the Guide to Approval
How to assess
Assessment is through performance in the workplace. Most assessment will be based on performance evidence, ie observation (in person, video recordings) and work products generated by the candidate (word-processed documents, letters, spreadsheets, travel/accommodation bookings, receipts, e-mail correspondence, database reports, graphic elements, etc). The specific evidence produced will depend on the choice of optional Units.
Holistic assessment is encouraged — gathering evidence towards more than one Unit in the same assessment occasion.
For general information on how to assess this qualification, please refer to the document Guidance on how to assess SVQs. For detailed guidance on how to assess this particular SVQ, please refer to the Assessment Guidance.
The Assessment Strategy sets out the criteria that must be met for assessment and requirements for assessors and internal verifiers.
Where can you take this course?
Qualification content and delivery tools
Information about the qualification(s)
Qualification Structure
National Occupational Standards
Core Skills signposting
Modern Apprenticeships
Information about delivery, assessment, quality assurance and support material
Assessment strategy
Assessor's guidelines
Candidate Guidance and Portfolio
Internal Assessment Reports
Understanding Standards & Frequently Asked Questions
Network Events
Offer this qualification