HNC Working with Communities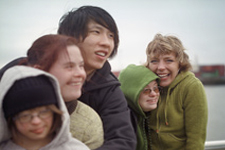 The HNC Working with Communities is aimed at practitioners, or people intending to work in community-based settings.
The HNC is suitable for candidates who have considerable experience of community work, but require more knowledge and understanding to do the job more confidently. This qualification is also suitable for less experienced candidates who will gain more practical experience on an ongoing basis.
Achieving the HNC in Working with Communities gives candidates the recognition and knowledge of the principles of community learning and development.
Use the tabs below to open each section individually. Alternatively you can show allhide all the sections.
Why deliver this qualification
The HNC Working with Communities offers a range of benefits:
skills, knowledge and capabilities needed for employment
practical experience
progression to higher education
enhanced career prospects
achievement is certified and nationally recognised
Who does this qualification suit
The HNC Working with Communities is aimed at practitioners, or people intending to work in community-based settings, at pre-qualifying level. The qualification is suitable for those working or hoping to work in the following areas:
Community Work Assistants
Youth Workers
Community Project workers, and community activists in the statutory and voluntary sector.
Progression
Candidates may use the HNC to gain a first step on the career ladder in Community Learning and Development. Others may decide to use it as broad-based evidence to assist in their entry to related professions such as Nursing and Teaching.
The HNC can allow entry to Degree programmes. It should be noted, however, that this is not automatic and will normally be subject to successful interview.
Approval
Centres with devolved authority are eligible to seek approval through their own internal approval process. Centres without devolved approval status should complete and submit a Qualifications Approval Application Form (formerly called SA1) to request approval to deliver the Group Awards.
Centres who wish to become a SQA Approved Centre should contact the Business Development Team for guidance on completing the combined CA1/SA1 form.
Assessors and verifiers must be able to meet SQA's general requirements for technical/occupational competence
How to assess
Assessment exemplars for the mandatory Units have been developed, and are published on the secure section of the SQA website, centres are however free to develop their own assessments.
Examples of evidence may include:
essays
case studies
observation of candidates
reflective reports
short answer questions
In some Units it is written into the specification that the Unit can be assessed holistically thus reducing the assessment load. At all times, integration of assessment within Units and across Units is encouraged.
Where can you take this course?
Group Award Specifications
Assessment Exemplars

---
| | |
| --- | --- |
| Title: | Community Learning & Development: Accountability for and Management of Resources |
| Unit Code: | DK13 34 |
| Publication: | CB2654/3 |
| Edition: | Version 3, December 2010 |
| Downloads: | Community Learning & Development: Accountability for and Management of Resources Exemplar |
---
| | |
| --- | --- |
| Title: | Community Learning & Development: Group Work |
| Unit Code: | F8L1 34 |
| Publication: | F8L1 34/AEX001 |
| Edition: | Version 1, December 2010 |
| Downloads: | Community Learning & Development: Group Work Exemplar |
---
| | |
| --- | --- |
| Title: | Community Learning and Development: Learning Approaches |
| Unit Code: | DK17 34 |
| Publication: | CB2238/3 |
| Edition: | Version 3, December 2010 |
| Downloads: | Community Learning and Development: Learning Approaches Exemplar |
---
| | |
| --- | --- |
| Title: | Community Learning and Development: Preparing to Work With Community Groups |
| Unit Code: | DK19 34 |
| Publication: | CB2228/2 |
| Edition: | Version 2, May 2008 |
| Downloads: | Community Learning and Development: Preparing to Work with Community Groups Exemplar |
---
| | |
| --- | --- |
| Title: | Community Learning and Development: Principles and Practice |
| Unit Code: | DK1C 34 |
| Publication: | CB2227/3 |
| Edition: | Version 3, December 2010 |
| Downloads: | Community Learning and Development: Principles and Practice Exemplar |
---
| | |
| --- | --- |
| Title: | Community Learning and Development: Promoting Health in the Community |
| Unit Code: | DK1F 35 |
| Publication: | CB2237 |
| Edition: | Edition 1 - April 2005 |
| Downloads: | Community Learning and Development: Promoting Health in the Community Exemplar |
---
| | |
| --- | --- |
| Title: | Community Learning and Development: Social Science Approaches |
| Unit Code: | DK1G 35 |
| Publication: | CB2229 |
| Edition: | Edition 1 - January 2005 |
| Downloads: | Community Learning and Development: Social Sciences Approaches Exemplar |
---
| | |
| --- | --- |
| Title: | Community Learning and Development: Workplace Practice |
| Unit Code: | DK1K 34 |
| Publication: | CB2638/2 |
| Edition: | Edition 2 - August 2006 |
| Downloads: | Community Learning and Development: Workplace Practice Exemplar |
---
| | |
| --- | --- |
| Title: | Working With Communities: Graded Unit 1 |
| Unit Code: | DK16 34 |
| Publication: | CB2230/2 |
| Edition: | Edition 2 - September 2009 |
| Downloads: | Working With Communities: Graded Unit 1 Exemplar |
---
If you have any questions relating to the contents of this restricted area, please contact:
Business Development & Customer Support Team
Scottish Qualifications Authority
The Optima Building
58 Robertson Street
Glasgow
G2 8DQ
Telephone: 0303 333 0330
Fax: 0345 213 5000
E-mail: mycentre@sqa.org.uk

 
Internal Assessment Reports