Supply Chain/Logistics & Transport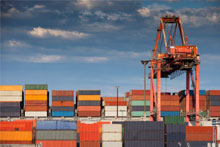 SQA offers a Higher National Certificate and a Higher National Diploma in Supply Chain Management. These are designed for candidates who want to progress their career into positions at an operational, team leader/supervisory or managerial level.
The qualifications focus on knowledge, understanding and skills that are specific to supply chain. Practical skills (how the topics are applied in practice) are developed by using the candidate's own employment situation, wherever possible.
In addition to the practical benefits, the qualifications should also prepare candidates for progression to further programmes of study, either in higher or professional education, or by means of occupational qualifications in the workplace.

Transport
There are currently no full HNC/Ds in the Transport areas at this moment in time and no immediate plans for developments in this area.

There are individual units in this sector (for instance in the Logistics area) and details of these units are fully listed in our current HN catalogue.

There is a suite of Scottish Vocational Qualifications (SVQs) in the Transport Sector (covering many areas such as rail transport, driving goods vehicles, road passenger transport etc.) Information sheets for SVQs are available from our SVQ section of the website and information about SVQs can be obtained from the SVQ Update publication.

Both of these documents (SVQ Update and the HN Catalogue) can be downloaded from the SQA website or ordered via our Customer Contact Centre on 0848 279 1000.
If you have specific queries related to proposed developments in the HN Transport area please feel free to contact me at hannah.fleming@sqa.org.uk

Related Links