SVQ 2 Health and Social Care at SCQF level 6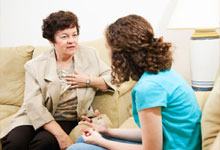 This SVQ is based on standards developed collaboratively by the Scottish Social Services Council (SSSC), TOPSS (England), Skills for Care, Care Council for Wales, the Northern Ireland Care Council and Skills for Health. In Scotland, the Scottish Social Services Council represents a wide variety of stakeholders working in a broad range of occupations and job roles within the health and social care sectors.
The SVQ is assessed in the workplace. Examples of the settings or centres in which the SVQ is likely to be delivered include: the NHS, private healthcare providers, adult care settings and training centres.
This qualification is available through colleges and training providers.
Use the tabs below to open each section individually. Alternatively you can show allhide all the sections.
Why deliver this qualification
The SVQ in Health and Social Care at level 2 is a requirement of the Scottish Social Services Council for people who are employed in the care sector in support worker roles. The qualification is work based, has flexible delivery methods and will enhance the career prospects of candidates.
Who does this qualification suit
The target audience for the SVQ in Health and Social Care are people who are support workers in care home services for adults. It is a requirement by the SSSC that everyone employed in this capacity should be working towards achievement of this qualification.
Access
Entry to the qualification is at the discretion of the centre.
Progression
Candidates can progress from the SVQ in Health and Social Care at level 2 to other appropriate SVQs up to and including level 4. The progression route for each candidate will depend on their job role and level of responsibility.
Approval
Centres will have to come forward for approval and should contact the Business Development Team for guidance in completing the combined CA1/SA1 form.
Assessors and verifiers must be able to meet SQA's general requirements as outlined in the guide to approval.
How to assess
Assessment arrangements will be agreed between the candidate and their assessor. Evidence Requirements for this SVQ consist of a combination of written and/or oral reports and practical assignments and projects which are linked to the candidate's job role. Evidence requirements for the unit are contained in the unit descriptors.
Qualification content and delivery tools
Assessment Guidance
Candidate Recording Forms
Internal Assessment Reports
Unit(s) and delivery tools
Information Sheet