Apprenticeships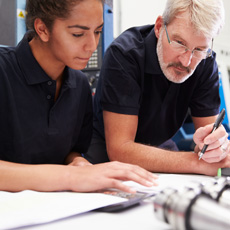 Modern Apprenticeships
Modern Apprenticeships provide paid employment and the opportunity to train for jobs to anyone over 16. Modern Apprenticeships are an exciting way of gaining skills and qualifications. They help learners start a career without having to study full-time.
The CBI, TUC and a wide range of employers support Modern Apprenticeships. Sector Skills Councils work with industry to develop the Modern Apprenticeship frameworks. Modern Apprenticeships can also be the basis for training more established employees.
Learn more about Modern Apprenticeships
Modern Apprenticeship Frameworks
Modern Apprenticeships are available across a wide range of sectors. Sector Skills Councils decide on the format of training.
Scottish Vocational Qualifications (SVQ)
The occupational SVQs for the sector at SCQF levels 6 and 7 are the core of every framework. Some frameworks may specify progression routes. Apprentices may start work towards an SVQ at SCQF level 5 and then progress to the SVQ at SCQF levels 6 and 7.
Learn more about Modern Apprenticeships Frameworks
What employers say about Modern Apprenticeships
SDS surveyed over 2,500 employers to hear their views on Modern Apprenticeships and the benefits they bring to their businesses. The survey has shown that employers are continuing to invest in Modern Apprenticeships.
Foundation Apprenticeships
Foundation Apprenticeships are new, work-based learning qualifications for secondary school pupils. They enable pupils in S4 to S6 to complete elements of a Modern Apprenticeship while still at school. Pupils will study towards a Foundation Apprenticeship alongside their other subjects. They'll also spend part of the school week at college or with a local employer.
Pupils work towards industry-recognised qualifications while developing skills and experience in the workplace.
Find out more about Foundation Apprenticeships
Apprenticeship Opportunities in Scotland
There are Modern Apprenticeship and Foundation Apprenticeship opportunities throughout Scotland.
Search for apprenticeship opportunities
Mappit
Mappit is an interactive website promoting Modern Apprenticeships in Scotland. Modern Apprenticeship providers promote their opportunities and vacancies on www.mappit.org.uk.
SQA's Pathway Apprenticeship scheme
Since 2012, SQA's Pathway Apprenticeship scheme offers young people an opportunity to work towards a Modern Apprenticeship in our Glasgow and Dalkeith offices.
We provide pathway apprentices with a training plan. We also provide a dedicated mentor to support them throughout their apprenticeship. Apprentices receive on-the-job training.
They have the opportunity to attend college and work towards:
HNC in Administration and Information Technology and
SVQ at SCQF level 7 in Business and Administration
Find out more about SQA Pathways