Introduction to Work Place Skills (IWPS)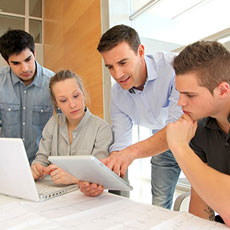 The Introduction to Work Place Skills (IWPS) is a qualification designed specifically for young people aged 16-19 that have a positive "can do" attitude and are preparing for the world of work, but need some support to develop their core skills and employability skills. Young people will get an employer assessed work experience placement of a minimum of 150 hours.
The IWPS will allow learners to develop their underpinning core skills, and to start to develop competence in a working situation. As some young people may not be quite ready for a real work environment, simulated workshops, sheltered and supported work environments, as well as real work environments can all be utilised for the work placement element of the IWPS.
The IWPS encompasses existing SQA nationally recognised employability and core skills units Personal Development: Self and Work; Working with Others; Communication;
Numeracy; ICT ; which supports the Skills Development Scotland customised unit Practical Work Place Skills: First Steps which forms a quality framework around the delivery of good quality work experience. The award has been SCQF credit rated and levelled at SCQF level 3 and it is suitable for delivery within Stage 2 of the Employability Pipeline.
Successful completion of this qualification gives the young person evidence of their core skills and experience, from which they can progress on to the Certificate of Work Readiness, further training, education or employment.
This qualification is available through colleges and training providers working in partnership with employers.