SQA Gaelic Orthographic Conventions

In 1976, the Scottish Certificate of Education Examination Board (SCEEB), at the request of its Gaelic Panel, set up a Sub-committee of the Panel to investigate issues related to Gaelic orthography. Inconsistencies in the standard of written Gaelic had been noted by SCEEB examiners and it was felt that guidelines should be created to ensure that an authoritative set of orthographic conventions was adopted by teachers and examination candidates. It was also important that examiners, setters and markers would use the document when dealing with Gaelic examination papers and scripts.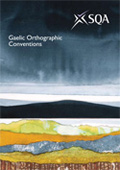 The findings of the Sub-committee were published in 1981 in Gaelic Orthographic Conventions English version (4.08 MB). This document has proved to be a valuable foundation for many areas of Gaelic development since then as Gaelic usage has expanded into different domains of public life in Scotland.