National 5 Administration and IT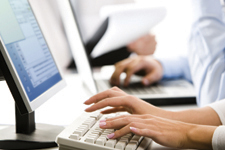 The National 5 Administration and IT Course develops learners' administrative, organisational and IT skills. Learners develop an understanding of administration in the workplace and the key legislation affecting employees; enabling them to contribute to the effective functioning of organisations through administrative positions.
Administration and IT homepage
Use the tabs below to open each section individually. Alternatively you can view allhide all the sections.
Mandatory information
Course Specification
This explains the overall structure of the Course, including its purpose and aims and information on the skills, knowledge and understanding that will be developed.
Course Assessment Specification
This explains the structure of the Course assessment; including the type and method of assessment. It also includes information on Course coverage.
Unit Specifications
These provide an outline of what each Unit will cover within the Course and detail the Outcomes and Assessment Standards.
Advice and guidance
Course and Unit Support Notes
These provide advice and guidance for teachers/lecturers on learning, teaching and assessment within the Course and its Units.
The following document contains the Course Support Notes and the Unit Support Notes for this Course. They can be printed together or separately.
Assessment support
Past Papers and Marking Instructions
Coursework information
Submitting Coursework
Understanding Standards materials
Verification and Course Reports
Where can you take this course?