Leadership Award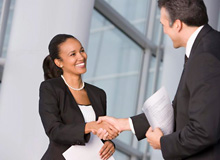 The Leadership Award develops knowledge of leadership skills, styles and qualities. It is designed for learners who take, or plan to take, a leading role for an activity.
Available at SCQF levels 5 and 6, the Award allows individuals to build self confidence and self esteem and encourages learners to respect the cultures and beliefs of others working alongside them.
The Leadership Award is jointly certificated by SQA and the Chartered Management Institute.
The Award is available to schools, colleges, training providers and voluntary organisations.
Use the tabs below to open each section individually. Alternatively you can show allhide all the sections.
Why deliver this qualification
Centres have the flexibility to choose the delivery method which best suits their circumstances and their candidates. The Leadership Award opens up the possibility of continued study in the area of leadership and management for candidates, and achievement of this qualification is nationally-recognised.
In addition, the Leadership Award meets the principles of Curriculum for Excellence.
Who does this qualification suit
The Leadership Award may appeal to a wide range of candidates, including:
S5 and S6 pupils involved in leadership activities or who wish to develop leadership skills
college students wishing to develop leadership skills
trainees preparing for employment
employees studying as part of a CPD programme
individuals involved in voluntary activities
Access
Entry is at the discretion of the centre. No specific knowledge is required to undertake these Awards.
Progression
The Leadership Award may provide progression to:
SCQF level 6 from level 5
Personal Development (SCQF level 6)
Employment
Career progression
Approval
Centres with devolved authority are eligible to seek approval through their own internal approval process.
Centres without devolved authority will have to come forward for approval and should contact the Business Development Team for guidance in completing the combined CA1/SA1 form.
Assessors and verifiers must be able to meet SQA's general requirements as outlined in the guide to approval.
How to assess
Assessment can take place at appropriate points as candidates progress through the tasks within the Units. Evidence of assessment can be presented in a format which best suits the individual candidates and the activities being undertaken.
Evidence can include written records, e-mails, assessor records, diaries, videos, recordings of interviews or photographs.
Assessment Support Packs (ASPs) for all Units are available to download from SQA's secure website.
Where can you take this course?
Ushare open learning resources
SQA Partnerships
Girl Guiding
Girlguiding Scotland is the leading charity for girls and young women in Scotland, with 50,000 young members. Girlguiding Scotland builds girls' confidence and raises their aspirations.
SDS My World of Work
My World of Work helps people explore their work, skills and learning opportunities, providing the help they need for the career they want.