Certificate Payroll SCQF level 6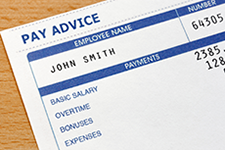 The Certificate in Payroll at SCQF level 6 is a new work-based qualification that provides learners with a qualification that will demonstrate their aptitude in this area. This competence-based qualification will develop the learner's confidence and awareness of the skills that they have acquired, which they can use for employment and/or further study.
This qualification covers areas such as employment legislation for payroll, reporting, PAYE, Income Tax, and National Insurance contributions. It also covers determining gross pay, payroll verification and reconciliation, computerised payroll administration, and payroll processing.
This qualification is available through employers and training providers. Some further education colleges may also offer it.
Use the tabs below to open each section individually. Alternatively you can show allhide all the sections.
Why deliver this qualification
The Certificate in Payroll at SCQF level 6 is a new course for the financial and payroll sector.
This qualification is based on the current version of National Occupational Standards, defined by the Financial and Legal Skills Partnership (FLSP) — the sector skills council for the financial and accounting services sector.
Supported by employers and the FLSP, this competence-based qualification may form part of a proposed Modern Apprenticeship framework.
The Certificate in Payroll can be offered within a workplace environment allowing learners to demonstrate their achievement of the qualification by collecting evidence naturally through their day-to-day work role.
Who does this qualification suit
This Certificate in Payroll is suitable for those currently employed in an internal or outsourced payroll function who are looking to enhance, develop or certificate their skills and experience.
The Certificate in Payroll is suitable for:
learners who may have just left school
mature candidates who may have been out of education for some time
individuals who are currently in employment and who wish to obtain a formal qualification
employers who wish their employees to obtain short, continuing professional development courses
Access
Entry is at the discretion of the centre. However, it would be beneficial if learners were competent in numeracy, communication and IT at SCQF level 5 or have appropriate work experience.
No prior qualifications or knowledge are required to undertake this qualification; however, learners should be employed in a suitable position to allow them to generate the evidence for the qualification.
Progression
This SCQF level 6 Certificate could provide progression to:
study for a relevant professional qualification
a more senior position in payroll administration
Approval
Centres with devolved authority for approval should use their own internal approval process.
Centres without devolved authority will have to come forward for approval and should contact SQA's Business Development Team for guidance.
Assessors and verifiers must be able to meet SQA's general requirements for technical/occupational competence as outlined in the Guide to Approval.
How to assess
Assessment of this Certificate will be through a series of theoretical and practical assessments or tasks. Most of the assessment is likely to take place in the learner's place of work.
Where can you take this course?
Qualification content and delivery tools
Information about the qualification(s)
Qualification Structure
Group Award GJ6A 46
The Certificate in Payroll at SCQF level 6 consists of 11 mandatory Units.
Please refer to the Qualification Structure (164 KB) for details on the Units making up this qualification.
National Occupational Standards
Unit information for this qualification is available on our Unit Search.
Modern Apprenticeships
This Certificate in Payroll at SCQF level 6 is a mandatory component in the Payroll Level 3 Modern Apprenticeship at SCQF Level 6.
SQA also offers the following components of this Apprenticeship:
| Unit title | SCQF 5 |
| --- | --- |
| Core Skills: Communication | F427 04 |
| Core Skills: Numeracy | F42B 04 |
| Core Skills: Information and Communication Technology | F42F 04 |
| Core Skills: Problem Solving | F42K 04 |
| Core Skills: Working with Others | F42P 04 |
Information about delivery, assessment, quality assurance and support material