Modern Apprenticeships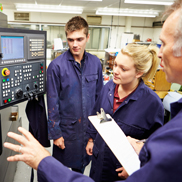 Modern Apprenticeships provide paid employment and the opportunity to train for jobs to anyone over 16. Modern Apprenticeships are an exciting way of gaining skills and qualifications. They help learners start a career without having to study full-time.
The CBI, STUC and a wide range of employers support Modern Apprenticeships. Sector Skills Councils work with industry to develop the Modern Apprenticeship frameworks. Modern Apprenticeships can also be the basis for training more established employees.
Learn more about Modern Apprenticeships
Modern Apprenticeship Frameworks
Modern Apprenticeships are available across a wide range of sectors. Sector Skills Councils decide on the format of training.
Learn more about Modern Apprenticeships Frameworks
Scottish Vocational Qualifications (SVQ)
Occupational SVQs for the sector are the core of every framework. Modern Apprenticeships can include SVQs from SCQF level 5 through to SCQF level 12, although the majority of MA frameworks are at SCQF levels 6 and 7. Some frameworks may specify progression routes, with apprentices working towards an SVQ at one level and then progressing to SVQs at other levels.
Learn more about Scottish Vocational Qualifications