NextGen: HN Learning for Sustainability: HN Accounting and Television - Case Study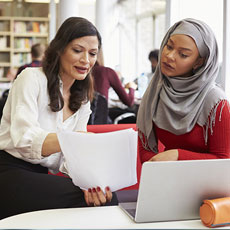 Donna Clark and Julie Parker, Subject Implementation Manager and New Product Development Manager, reflect on the importance of Learning for Sustainability within NextGen: HN Accounting and Television qualifications
Learning for Sustainability
Sustainability is an overarching concept first raised in the 1980s, when it was recognised that an international plan was required to tackle global issues that were, and still are, affecting the planet.
Sustainability has three pillars: social inclusion, environmental protection and economic growth. In theory, for something to be genuinely sustainable, there should be a balance between all three pillars. In practice, compromise is usually required to determine the best option. For example, a solution might not necessarily be the best thing for people, or for profit, or for the environment, but it is the best fit at present, and can be flexible.
As a United Nations (UN) member state, the UK has signed the Sustainable Development Agenda, an internationally agreed 15-year blueprint that aims to achieve a better and more sustainable future for all. Central to the agenda is a set of Sustainable Development Goals (SDGs) that each have defined targets.
UN member states must establish their own national frameworks and targets towards achieving the SDGs. As a devolved government, the Scottish Government's National Performance Framework sets out the vision, targets and strategies towards achieving the agenda, with Learning for Sustainability (LfS) being a key component of the framework's education strand.
What is LfS?
Learning for Sustainability (LfS) is a uniquely Scottish approach, combining Education for Sustainable Development (ESD), global citizenship and outdoor learning. LfS has been acknowledged as an entitlement of all learners and a priority in Scottish education, being a professional registration requirement of the General Teaching Council for Scotland. LfS is considered an integrated holistic concept and aims to develop an individual's ability to think beyond their personal situation, behaviours and attitudes. In addition, it teaches individuals to consider not only the global issues they learn about but also the roles they could play in driving change.
SQA's LfS commitment
SQA is committed to incorporating the knowledge and skills of LfS in all new and revised qualifications. This commitment is driven by the LfS National Implementation Group Vision 2030+ Action Plan.
Embedding LfS in NextGen: HN qualifications
We firmly believe that all Next Generation Higher National (NextGen: HN) learners should finishtheir qualifications with:
an understanding of sustainability in general
a good grounding in subject-specific sustainability knowledge and skills
the confidence to apply their knowledge and skills in the next stage of their lives
How might LfS be embedded in NextGen: HN qualifications?
There are several ways we can approach embedding LfS in NextGen: HN qualifications, including directly through developing sustainability-related content and assessment, and indirectly through establishing sustainability-related practices within a qualification.
NextGen: HNC Accounting
This qualification includes sustainability-related content as a mandatory component of learning, teaching and assessment.
In the Professional Considerations in Accounting unit, learners go beyond the technical aspects of accounting to develop key knowledge, values, mindset and skills in the wider areas that affect accountants today. They consider the ethical considerations of the professional accountant and the importance of sound corporate governance practices, good corporate social responsibility practices, and sustainability in business.
Assessment in this unit includes an outcome focusing on sustainability in business, which reinforces and consolidates conversations about sustainability delivered in other units. It also provides learners with a strong foundation in this area to prepare them for further study or real-world practice.
NextGen: HNC and HND Television
David Attenborough and Greta Thunberg, alongside other campaigners, scientists and organisations, have successfully used TV and other media to raise awareness of sustainability issues, motivating behavioural change in individuals, workplaces and governments.
Film and TV programme commissioners have recognised the power of media to drive change, and now require UK production companies to have albert certification before projects are commissioned. The albert organisation encourages the film and TV industry to improve practices off screen to eliminate waste and reduce carbon production, while building awareness on screen by introducing or highlighting sustainability issues.
Knowledge, skills and evidence reflecting on sustainable TV industry and personal practices are embedded in NextGen: HN Television qualifications, in line with the albert requirements. Learning materials developed by albert incorporate sustainability into the qualification, and also support continuing professional development (CPD) for delivering staff.
The examples of NextGen: HN qualifications above highlight that knowledge and understanding of current industry practice and behaviours, and consideration of how they can be made sustainable, are integral to developing global citizens who have the confidence to drive change.
We will continue to develop further case studies as more NextGen: HN qualifications are developed. If you would like to explore opportunities to embed sustainability in your qualification, contact lfs@sqa.org.uk.