NextGen: HN Centre-led development journey - Case Study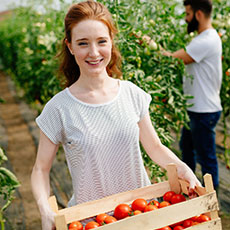 Julie Parker, New Product Development Manager, shares her experience supporting the Next Generation Higher National (NextGen: HN) centre-led developments in 2021-22. Within this year, there was three centre-led qualifications developed in the following subject areas:
HNC Agriculture (led by SRUC)
HNC Agricultural Technology (led by SRUC)
HNC Horticulture (led by UHI)
The NextGen: HN project provided the opportunity for centres to develop locally devised, specialist qualifications, which was a key aim of the project.
Following successful applications, the University of the Highlands and Islands (UHI) and Scotland's Rural College (SRUC) started their NextGen: HN development journey in September 2021.
Development Journey Commences
UHI and SRUC both embraced the NextGen: HN ethos and design principles to create qualifications which enable learners to develop highly sought industry and societal skills. The design principles are highlighted below.
Key design principles include:
HNC and HND are standalone qualifications
120 SCQF credit points (15 SQA credit points) at SCQF levels 7 and 8
Opportunities to develop meta-skills throughout the qualifications
Larger and fewer units with significant reduction in assessment load for learners and staff – increased focus on learning and development
Graded units replaced with whole qualification grading
Digital by design – technology embedded in qualification delivery. to enhance and support assessment, and learning and teaching approaches
Centres appointed lead developers and formed their qualification design teams (QDTs). Project plans and milestones were confirmed, and a schedule of staff support and training sessions were held over September and October 2021, facilitated by SQA.
Collaboration and communication featured from the outset for all three developments. QDT remits included representation from: subject specialists, industry, other delivery centres, alumni and current learners, employers, SQA, External Verifier (EV) / External Quality Assurer (EQA), Higher Education Institute's and national sector groups i.e. the Horticulture Skills Group and Skills for Farming Group. This provided opportunities for valuable discussion and proactive consultation and collaboration which supported the development of qualifications which met the NextGen:HN design principles, ensuring the proposed frameworks met the needs of industry and learners.
The commitment and enthusiasm from all three centres' lead developers, Dr Rob Boyd (UHI, Horticulture), Dr Jan Connell (SRUC, Agriculture) and Jeremy Taylor (SRUC, Agricultural Technology) was apparent during our virtual team meetings and from their respective development teams as they attended the training and support sessions. They embraced the opportunity to lead the development process, resonating with the aims of the NextGen: HN design principles.
The individual centre-led development project plans featured the same milestones within ambitious timelines, aiming for pilot delivery in academic year 2022-23. Lead developers were extremely proactive in collaborating with internal and external stakeholders to enable timely progression and achievement of key milestones. In addition to the support resources provided by SQA it was evident that both centres had extremely valuable internal support from colleagues involved in the enhancement of teaching and learning practices. The Horticulture development led by UHI included a range of internal support. Colleagues within the Education Department Unit shared practise with other programme teams where there were similarities regarding course design principles. UHI co-ordinated extensive valuable collaboration opportunities in addition to the SQA training sessions, QDT meetings and consultation with internal and external stakeholders. UHI's Higher Education Operations Manager (SQA), Liz Cook, liaised closely with the lead developer of the Horticulture qualification and said: "the NextGen: HN qualification will provide a good opportunity for individualised student learning". The lead developer, Dr Rob Boyd (UHI) added that collaboration and communication was carried out with a range of key internal and external stakeholders which enabled extensive consultation and input on the qualification framework.
SRUC's Agriculture and Agricultural Technology developments included support from their internal learning design process, facilitated by colleagues in their Centre for the Enhancement of Learning and Teaching (CELT). This involved a range of support sessions for the development team, supported by SQA. Pauline Hanesworth, Head of Teaching and Learning at SRUC and lead for CELT, reflected on the development process and, said: "The NextGen: HNC development was an extremely exciting project for our programme development teams, providing the opportunity to design a qualification within a new way of working, which involved a range of support from SQA, with very positive external stakeholder consultation and input from industry".
SRUC's lead developers, Dr Jan Connell and Jeremy Taylor, organised a successful external stakeholder event and a range of internal stakeholder opportunities, involving focus groups collating valuable feedback from staff and learners.
Development Process Continues
Excellent consultation with internal and external stakeholders within the industry resulted in the review of some frameworks, and the proposal of qualification frameworks alongside the progression of development teams and the creation of development sites. Unit writing began in late 2021 which was supported by communication and collaboration within the development teams and regular progress meetings with SQA colleagues.
External stakeholder events were held in January 2022 along with learner engagement, to inform the development of draft units. Units went through the technical editing process, with ongoing collaboration taking place prior to the editing process.
Challenges
Common themes were identified for all three developments, with a few being unique to individual developments.
Common challenges included:
Ambitious timelines - centres recognised there was an accelerated process to reach the development of proposed frameworks i.e. the centre-led NextGen: HN timeline was just under two months rather than the standard three months
Grading models – the proposed grading model involved a new way of working and a change of approach. Development teams had to select a grading model from three proposed models with minimal ability to compare, as only one model was in the process of being piloted.
Minimal face-to face stakeholder consultation until January 2022 – due to Covid restrictions and guidelines face-to-face stakeholder engagement and consultation was minimal until late January 2022
The challenges identified regarding individual developments included; ensuring other centres were included in collaboration process (where applicable) and QDT members or critical friends had the opportunity to contribute at QDT discussions and provide feedback on the proposed framework. This was particularly relevant for the development of the Horticulture qualification, with several other centres collaborating as a result of the drive and commitment of the lead developer. The Agricultural Technology qualification was extremely well received by external stakeholders and was recognised as an important development area for the future of farming. Challenges surrounding this particular development involved extending QDT membership as a result of incorporating four curriculum areas (Agriculture, Engineering, Computing and Science). Lead developer, Jeremy Taylor, collaborated with internal and external stakeholders and SQA colleagues to navigate these unique challenges.
Communication and collaboration were key to overcoming the challenges identified. Lead developers reported on the immense teamwork and support they received, with centre staff and SQA colleagues coming together to discuss challenges with a solution-focused mindset.
We found it was useful to accept that we were working in an iterative process of creating, testing and revising which will continue throughout the pilot delivery process. We were able to overcome some challenges with the implementation of further SQA support resources. The input of Qualification Managers and Subject Implementation Managers, in collaboration with lead developers, was highly valuable and supported unit writers within the technical editing process of the four curriculum areas (science, computing, engineering and agriculture) in the Agricultural Technology qualification.
Development Process Continues/Preparation for Pilot Delivery
Lead developers, unit writers, technical edits and SQA colleagues collaborated throughout March and April 2022 with the editing process and the start of pre-launch evaluations commencing in May, in preparation for pilot delivery.
Colleagues within SQA support the NextGen: HN qualification development, through the involvement of 18 project strands. The strands support the development process at various stages by harnessing expertise from across different departments. It has been enlightening to witness the amount of work involved behind the scenes and the outstanding dedication and commitment of SQA colleagues in supporting NextGen: HN and centre-led developments since joining SQA in May 2021.
Pre-launch evaluations for centre-led developments were held throughout May and June 2022 and encouraged engagement with attendees from industry. The attendees from industry were not particularly close to the developments, which provided an unbiased view of the proposed qualification. The feedback allowed for an evaluation intowhether the qualifications meet the NextGen: HN design principles and incorporated the skills required for the 21st Century workforce.
The pre-launch evaluations for the centre-led developments were extremely positive, welcoming the learning and development focus and the development of practical skills. Additionally, individualised meta-skills were highly sought and specific to each centre-led industry area. The incorporation of meta-skills addressed a gap that was previously identified by employers and individuals within industry which was extremely rewarding for the lead developers and their respective teams.
The ongoing consultation, collaboration and commitment proved extremely worthwhile. Support for pilot centre delivery teams started with regular informal 'keeping in touch' meetings and webinars that included reflections from pilot delivery in academic year session 2021-22. We also launched several e-learning modules on SQA Academy modules.
There are specific areas to highlight when reflecting on the development process for centre-led development from a New Product Development Manager's perspective including, never to underestimate the value of regular communications, teamwork and proactive collaboration with both internal and external stakeholders.
We would like to convey thanks to lead developers, development teams, SQA colleagues and centre colleagues including Quality Managers, SQA Co-ordinators and Teaching and Learning Managers. Without these proactive and engaging teams we would not have our three centre-led developments in pilot delivery this academic year. We are now progressing with centre led HND developments and have taken into consideration the challenges of the HNC development and implemented counter measures.
We will continue engaging with the centre-led developments throughout the pilot delivery year and we look forward to hearing from the practitioners and learners about their experiences.