PDA Online and Telephone Counselling SCQF level 8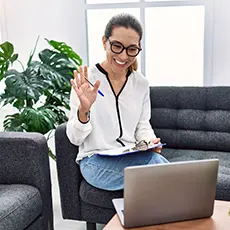 Professional Development Awards (PDAs) extend or broaden professional or vocational skills and are linked to Professional or National Occupational Standards. The PDA in Online and Telephone Counselling at SCQF level 8 is mapped to the British Association for Counselling and Psychotherapy (BACP) online and telephone therapy (OPT) competence framework (2021) and the online and phone therapy (OPT) training curriculum (2021).
The PDA is jointly awarded by SQA and BACP.
The units cover areas such as OPT media and technology, as well as the ethical, professional and legal factors relevant to safe and competent practice.
This qualification may be available through colleges, training providers and employers. It is designed to be delivered as a taught course and will normally be available as a combination of workshops and self-directed study. There is a mandatory 30 hours of supervised practice embedded in the qualification.
Use the tabs below to open each section individually. Alternatively you can show allhide all the sections.
Why deliver this qualification
The PDA in Online and Telephone Counselling was developed in partnership with the BACP so it is suitable for the sector.
It seeks to ensure that counselling practitioners who wish to offer their services via blended formats (online/telephone and in-room) can access a robust training course that is mapped to research-informed competence frameworks.
The units are also appropriate for learners currently undertaking adult-focused core counselling or psychotherapy training who wish to learn more about working in a remote counselling context with adult clients.
The unit-based structure allows flexible timetable setting. Units typically involve 40 hours of learning, and they can be delivered on a full-time or part-time basis.
Who does this qualification suit
This PDA is suitable for registered counselling practitioners who wish to work towards a nationally recognised qualification that trains them to work remotely with adult clients via online video conferencing or by telephone.
Access
Entry is at the discretion of the centre; however, learners must have successfully completed or be working towards a core counselling qualification at SCQF level 8 or above, such as the HN Diploma in Counselling at SCQF level 8.
Progression
The units in the PDA are fully mapped to the BACP online and telephone therapy (OPT) competence framework (2021) and the online and phone therapy (OPT) training curriculum (2021). Completion of the individual units may contribute to achievement of the HN Diploma in Counselling and professional registration* as a counsellor with the BACP.
*Access to the register is always at the discretion of the BACP.
Approval
Centres interested in offering this qualification must come forward for approval and should contact SQA's Business Development Team for guidance.
All centre staff involved with the delivery of the qualification must be able to meet SQA's general requirements for technical/occupational competence as outlined in the Systems and Qualification Approval Guide.
There are also mandatory specific technical and occupational competence and delivery requirements associated with counselling. These are set out in the Group Award Specification.
How to assess
Each unit specification gives detailed information on the evidence requirements and approaches to assessment for the unit.
Assessment methods include assignments, observation, and a reflective journal. All learners must pass a Readiness to Practice assessment prior to beginning work with clients.
A Readiness to Practice template can be downloaded from the HND Counselling
Where can you take this course?
Qualification Structure
Group award code: GT9L 48 (16 SCQF credit points)
This group award is made up of 2 mandatory SQA HN unit credits. It comprises 16 SCQF credit points at SCQF level 8.
Telephone and Online Counselling: Ethics and Professional Standards
Unit code: J6FH 35
SQA credit: 1
SQA credit points: 8
SCQF level: 8
Telephone and Online Counselling: Safe and Competent Practice
Unit code: J6FH 35
SQA credit: 1
SQA credit points: 8
SCQF level: 8
Group Award Specification