Unlocking the Potential of Scotland's Apprentices
Monday 6 March 2023
SQA is proud to support this year's Scottish Apprenticeship Week and highlight the positive impact work-based learning has on people, businesses, and the local economy. Apprenticeships unlock learners' potential and provide them with valuable skills and experience sought by employers. They also support sustained employment and upskilling, as well as opening up opportunities for young people from diverse backgrounds and abilities to gain skills that will support them throughout their life and in work.
Modern Apprenticeships are an essential part of Scotland's education and training landscape, and SQA qualifications, specifically Scottish Vocational Qualifications (SVQs), are an integral part of most Modern Apprenticeships. These well-respected vocational qualifications meet the required National Occupational Standards outlined by a host of industries. This ensures that the skills young people develop during their apprenticeship meet employers' needs, and that the young people themselves are work-ready and able to accurately demonstrate the skills, knowledge, and experience that they have developed during their training. The flexibility of SQA qualifications allows for innovative delivery approaches that schools, colleges, and training providers can tailor to meet their own specific requirements.
Modern Apprenticeships span a variety of industries and business areas, including, Engineering, Childcare, Digital Marketing, Accounting, Television Broadcasting, and Construction.
Jennifer's Story
Jennifer Kolonko from Hamilton recently completed a Modern Apprenticeship in engineering at Coca Cola Europacific Partners (CCEP), becoming the first female engineer at her site. She now has a job as a senior technical operator and supports three new apprentices.
Throughout her apprenticeship, Jennifer completed two SQA qualifications; an SVQ in Engineering Maintenance at level 3, and a Higher National Certificate in Engineering Systems. She said: "Growing up I had a hobby of re-building cars with my dad so always had a love of engineering and applied for the CCEP Modern Apprenticeship after seeing it online.
"My Modern Apprenticeship has given me the knowledge to do things properly and better ways of problem solving which has improved my confidence a lot. Through the apprenticeship you get to work with experienced engineers who pass their knowledge onto you. The main benefit was the mixture between academic and hands-on experience. I had my own flat and it helped that I was getting a salary while still learning."
Sharon Blyfield, Head of Early Careers and Apprenticeships at CCEP said: "As the first female engineer at the site, Jennifer is changing the narrative around engineering, an industry that has traditionally been dominated by men. She's paving the way for future female engineers to follow in her footsteps as apprentices, volunteering to talk in schools and to young people in the community.
"Apprenticeships also deliver a great return on investment for the business. While apprenticeships are about giving back and making sure we do our bit, it also makes good business sense. During her apprenticeship, Jennifer played a vital role in leading a project to improve mechanical efficiency across the site. She spotted an opportunity to reduce the number of jams, and designed and implemented a system guide to support colleagues in establishing the quickest routes to resolve issues. It has drastically improved mechanical efficiency, reducing waste by 30% and producing up to 10% more product."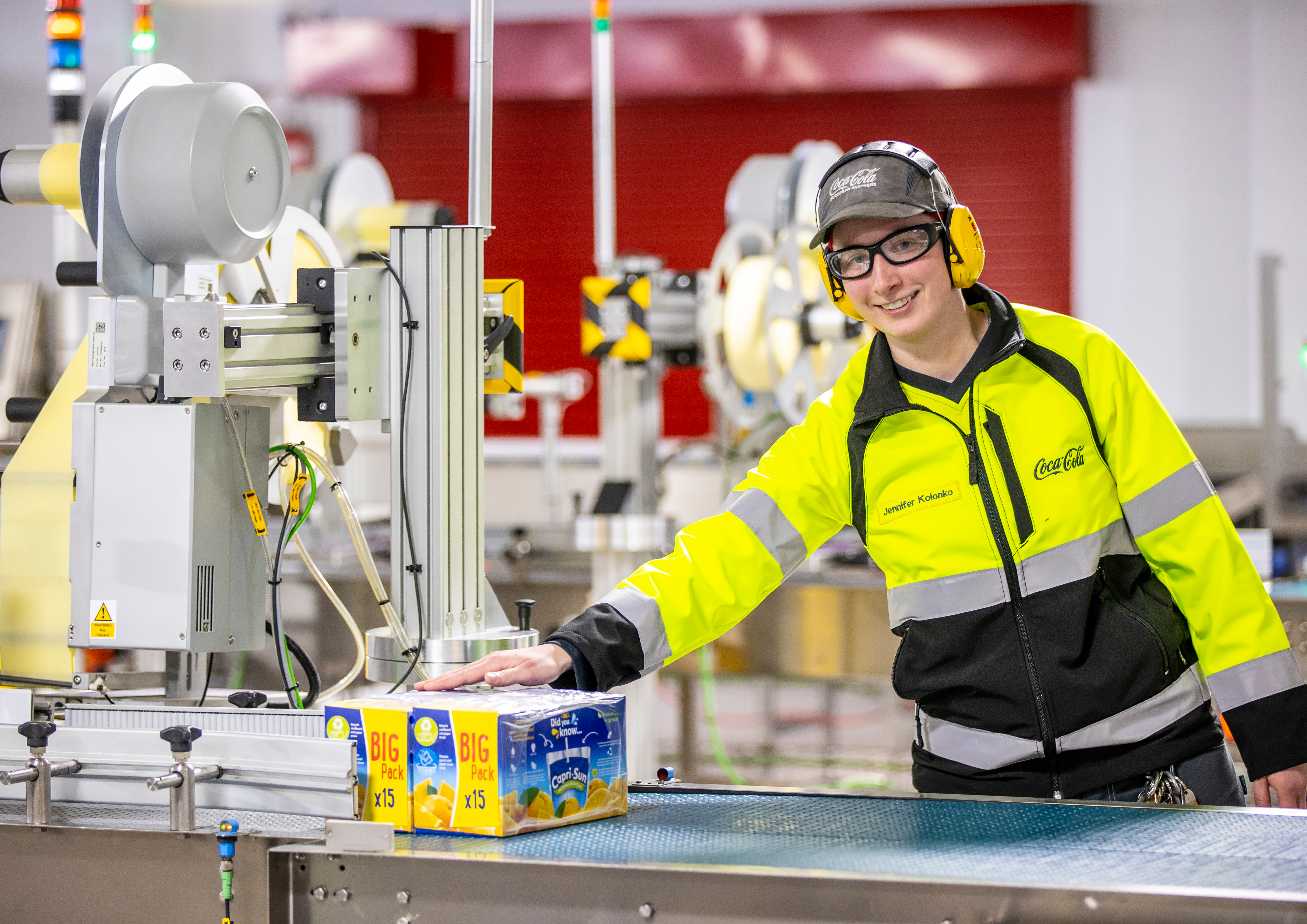 Anna's Story
Anna McCormick from Edinburgh completed a Graduate Apprenticeship in Business Management with Microsoft last year. Graduate Apprenticeships allow young people to work full time, gaining industry experience and a wage, while studying at university or college for a degree. Anna was able to transition into this straight after completing a Modern Apprenticeship in Digital Marketing with the company, where she completed two SQA qualifications: a Diploma in Digital Marketing and a Diploma in Digital Application Support, both at SCQF level 6.
Her Modern Apprenticeship gave Anna a passion to continue her learning and the confidence to ask for more opportunities from her employer. She worked with Microsoft to become their first Graduate Apprentice in Scotland, opening up opportunities for others to follow in her footsteps.
Anna says: "I couldn't have made a better decision and I'm so happy I went for the apprenticeship. I've had the best start to my career, and I get to have so many different experiences that other people my age don't even have access to through study alone at university or college."
Caroline Hunter, SQA Scotland National Manager, says that by investing in apprentices, businesses are setting a fantastic example to other employers: "The qualifications and courses that SQA offer, and the support given by training providers, enable employers to take on the responsibility of training their own people. This means they can tailor their development and get the person they want to fit their specific needs."
For more information on how SQA support Modern, Foundation, and Graduate Apprenticeships, visit https://www.sqa.org.uk/apprenticeships.