ISDC Case Study
New Customised Awards in Business Management: SQA and ISDC partnership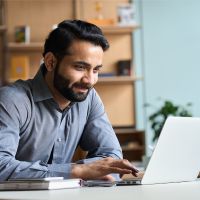 ISDC (International Skill Development Corporation) is approved to deliver SQA Customised Awards in the business sector. With qualifications at SCQF (Scottish Credit and Qualifications Framework) levels 6, 7, 8 and 11, there are clear pathway routes for students as well as credit transfer options to a range of international universities. These qualifications are awarded in partnership with SQA through our Customised Award service, and have been created by ISDC and approved, quality assured and jointly certificated by SQA, which ensures credibility and acceptability across the world.
ISDC is a leading international provider for British education and skills who use their knowledge and experience, and technology, to deliver high quality digital learning products globally. ISDC strives to enable people and organisations to unlock their potential and develop the knowledge and skills needed for personal and economic growth.
With services offered in more than 120 countries, ISDC is well positioned to meet the increasing demand for skills development and professional education across the globe. The company has four divisions: Assessments and Qualifications, Professional and Higher Education, Virtual and Digital Learning, and Workforce Skills.
Empowering Skills and Knowledge Development: the Guyana project
This partnership has already achieved significant success with the Level 6 Foundation qualification, which is endorsed by the Ministry of Education in French Guyana and has been accepted by the Association of Indian Universities (AIU) as an entry qualification to an undergraduate degree qualification in the business and commerce sector.
Over 400 students were certificated in 2022, and the delivery model — which is accessed remotely and delivered fully online — ensures accessible learning for students while contributing to environmental sustainability. The initial pilot involved mature Guyanan students who hadn't finished secondary school. On completing the qualification, they were able to proceed to Year 1 of an Indian university degree to improve their futures — as well as those of their families and communities. The success of this innovative pilot has enabled the project to continue, and the second cohort of over 800 students have begun their studies.
The quality of content and rigor of the ISDC Foundation Programme has ensured that we at Jain have been able to admit the certificate holders for progression to our Undergraduate (Bachelor) Degree Programmes that are delivered online. This has been possible since this qualification has been recognised by AIU as equivalent to Class XII as required in the Indian education system for learners from outside of India. It is truly a privilege to be able to provide opportunities that would otherwise be unavailable to these enthusiastic but underprivileged students from outside of India.

We are glad to share that from the first batch of students, 89% have progressed into various Undergraduate Programs offered by Jain. We have also been able to gather information that an additional 6% of students have enrolled into programs offered by the local universities of the Caribbean Islands and other countries in Europe. - Dr Easwaran Iyer, Pro-Vice Chancellor at Jain University India
The structure of the Customised Awards programme offered by SQA and ISDC enables training providers to create their own timetables to meet the needs of their students, while being fully mapped to the highly respected SCQF in terms of credits and levels, giving a degree of flexibility while ensuring the credibility is not compromised.
Having worked on the ISDC Foundation in Business from its first inception, through the scoping and creation of the qualifications and finally achieving SQA accreditation, it's an honour to see how our qualification positively impacts on the lives of our students. This initiative is a celebration of diversity and widening participation as well as quality driven creativity. - Teresa Jacobs, Executive Director – Learning at ISDC
SQA Customised Awards: Tailored qualifications for Business Success
SQA Customised Awards (also referred to as 'customised qualifications') are the perfect solution for any business that needs a tailored qualification to train its students or employees with relevant skills and knowledge. Our expertise, blended with your business knowledge, can create a qualification that meets your organisation's specific needs. We can build on your existing in-house training courses, or collaborate with you to create a completely new qualification. Each Customised Award fulfils our rigorous quality assurance, which gives universities, employers and other key stakeholders confidence that the qualification is fit-for-purpose.
The model that has been developed in partnership with ISDC is providing recognised skills and qualifications to students and clear pathway options to further studies enabling them to pursue their future dreams and ambitions. Our partnership is going from strength to strength based on quality, integrity and internationally accepted qualifications and I am looking forward to expanding the portfolio in other sectors including IT and Data Science so that we can meet future skills needs. - Margaret Curran, International Regional Manager at SQA
Find out more about SQA's Customised Awards