Signs of success for all to see at Dingwall Academy
Friday 22 September 2023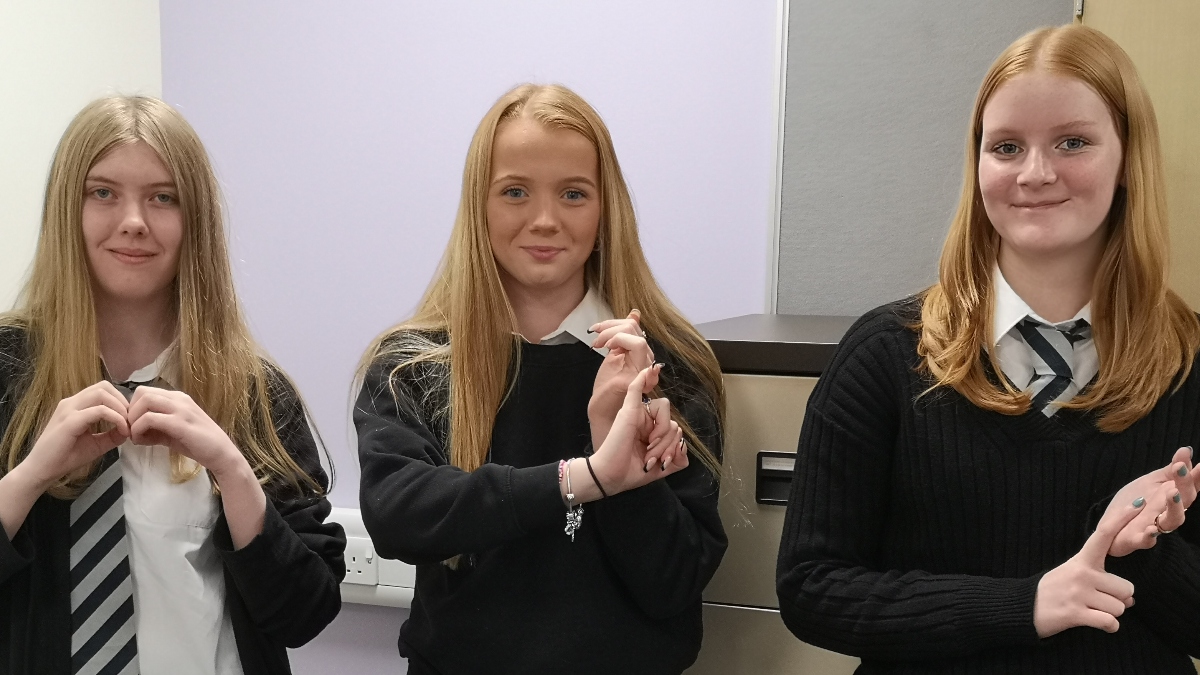 SQA's British Sign Language (BSL) Awards are proving popular with pupils at Dingwall Academy. For over 30 years, the school has offered BSL qualifications as a mainstream language option for both hearing and deaf pupils.
In recent years however, pupils in S3 and S4 have undertaken SQA's BSL Award at levels 3-5 on the Scottish Credit and Qualifications Framework (SCQF), with the option to progress to SCQF levels 5-6 during fifth and sixth year.
Such has been the popularity of the qualification that several pupils have chosen to continue their BSL journey at Heriot-Watt University, where they have achieved an MSc Interpreting.
Karen Cormack, Head teacher at Dingwall Academy, says she is delighted with the uptake of progression routes.
Karen adds: "We offer a taster experience of BSL in S1 and S2, which our pupils engage well with and enjoy learning a new language in such a practical away.
"It is fantastic to now be able to offer pupils the opportunity to go on and study a SQA BSL award at SCQF level 6, and to have pupils continue with the language when they previously would have had to stop. We are delighted that our pupils and staff are leading the way."
Aoife, who is undertaking the SQA BSL Award at SCQF level 6, says the qualification will be useful when she embarks on her chosen career.
She explains: "I think it will also be very useful in the future as I want to be a police officer and I think it will be beneficial if I meet or need to help someone who is deaf. It is a very interesting skill to know."
Fellow pupil Sophie-Louise believes there are wider benefits to gaining the qualification: "I feel that BSL should be taught in more schools as…learning BSL has given me the opportunity to interact with deaf people outside school. This is something that makes a massive difference to the deaf community."
This is a sentiment echoed by her classmate, Caroline, who says: "BSL is a fun language to learn and a good skill to have. Even knowing basic signs can be helpful. It opens your mind and lets you see what life is like from a different perspective, which is really interesting."
Meanwhile, Megan, who is working towards the BSL Award at SCQF level 5, says the language is proving useful in other subject areas: "BSL helps me understand English better because you have to break it down and think about what it means."
Sheila Lundberg, a Co-ordinator at the Highland Deaf Education Service, says this can be attributed to the young learners appreciating the benefits of studying BSL.
Shelia says: "BSL is a beautiful, full, vibrant living language. Over the last 30 years, Dingwall Academy has produced six BSL/English interpreters and two of this year's SCQF level 6 cohort are keen to undertake the MSc Interpreting. It is a great record!"
Sandy Riddell, SQA Qualifications Manager for BSL, welcomes the positive impact the awards are having at Dingwall Academy, adding: "It is fantastic to hear that pupils are enjoying, and appreciating the many benefits of our BSL Awards. I am delighted that some have chosen to continue their BSL studies at university."
Sandy continues: "At each level of the BSL Awards, learners develop their understanding of how sign languages work, and how they differ from spoken and written languages.
"As they progress through the awards, they acquire knowledge of the history and development of British Sign Language and the Deaf Community in Scotland and beyond."