Pilot preparations 2023-24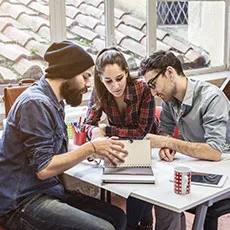 We held meetings with NextGen: HN pilot centres and other stakeholders in May 2023 to discuss how ready the pilot NextGen: HND qualifications were for delivery. This generated valuable and important discussions and below we have highlighted some of the good practice which was highlighted at the meetings:
Collaboration with Industry
Our NextGen: HN qualifications provide routes into both employment and further study and as such, our industry representatives are a vital partner in our work. It is important for us to engage with these stakeholders when determining the content and structure of the qualification alongside the readiness of pilot NextGen: HND qualifications.
NextGen: HND Horticulture, Social Sciences, and Engineering developments all introduced representatives from industry into their Qualification Development Teams (QDTs). This is important as it provides QDTs with valuable perspectives and input when developing the qualifications, to ensure learners are prepared for the real-world demands of industry.
Employer support for NextGen: HND Horticulture development has been particularly significant. The Royal Botanic Gardens of Edinburgh – one of the key employer stakeholders – have worked closely with the Horticulture development team since the early stages of the project, and were instrumental in the development of two of the optional units:
Ecological and Conservation Horticulture (J7AA 48)
Botanical and Historic Garden Horticulture (J7A6 48)
Multiple staff from the Royal Botanic Gardens of Edinburgh joined the QDT and brought a wealth of experience and expertise, contributing actively to the discussions around unit content for all mandatory units, alongside the units above.
The NextGen: HND Physical Activity and Health has embedded CIMSPA Professional Standards, which allow learners to gain accreditation for industry recognised qualifications. In addition, learners can develop industry networks through the mandatory components in the qualification, which look at the standards of gym instruction and personal training.
In addition, both NextGen: HND Engineering and Accounting also collaborated with their respective sector skills councils and/or bodies during the development process.
Collaboration with Learners
The NextGen: HND Social Sciences identified the value of collaboration with learners, past and present. Former learners were among the QDT, alongside teaching staff and employers. This provided important perspectives to the development of the qualification.
Surveys with learners (as well as college staff and employers) helped to gather feedback on the proposed changes to the qualification. These surveys included questions around the aims of the Group Award, the structure of the qualification, subject content, meta-skills and academic skills, learning for sustainability, assessment approaches, and grading. A total of 63 learners participated, which contributed to creating a suitable prototype qualification to pilot in 2023-24.
There will be additional evaluation activity carried out throughout the pilot to ensure that objectives are being met. This will also give learners the opportunity to feedback, allowing the QDT to make necessary changes. This process ensures the learner voice is considered and they are involved in the process, while also ensuring they are benefitting from their qualification.
Collaboration with Higher Education Institutes
NextGen: HN qualifications provide routes into both employment and further study and as such, our universities are a vital partner in our work.
NextGen: HND Social Sciences, Acting and Engineering consulted HEIs during their planning and development, with many HEI representatives being part of their QDTs.
For NextGen: HND Social Sciences, Surveys and consultations were carried out with a range of stakeholders, including subject delivery staff and admissions officers. Additional 'critical friends' who had specific subject knowledge were also consulted, including a cross-university group comprising representatives from five different Scottish universities.
The Engineering QDT reflects departments from across further education in Scotland as well as several employers, sector bodies and universities. Additional stakeholders, such as the Engineering Council and universities were consulted to sense-check the development.
Colleagues from both HEIs and Colleges were represented in the QDT for HNC Acting & Performance, generating valuable discussion on what was key to the qualification from their perspective. This involved deciding which units should go in the framework and the content and evidence within each.
Grading and feedback
Feedback on the innovative approach to grading was positive, particularly within meetings on the NextGen: HND Social Sciences and Physical Activity and Health developments.
The Physical Activity and Health, and Social Sciences developments are both using the holistic approach to grading, which was positively received by HEIs, colleges, employers and learners.
Learners were actively engaged in the interim discussions, which formed an integral part of the grading process. The sessions also allowed learners to discuss key aspects of their performance and coursework, and practitioners discussed development points for improving and/or maintaining their provisional grades.
Assessment and Technology
Various centres adopted a technological approach regarding assessment, while others maintained a more traditional approach.
Digital assessment – including the use of blogs and podcasts – is well used in NextGen: HND Accounting, where digital tools are incorporated in assessment as a practical and contemporary alternative to more traditional assessment methods.
Additionally, NextGen: HND in Physical Activity and Health use a variety of digital methods for assessment. Assessments can include vlogs and podcasts alongside excel spreadsheets for exercise planning and programming. However, the qualification also uses additional technology to support assessment, including Moodle, Microsoft Teams and OneNote for learner submissions, alongside Turnitin for their assessment portfolio.
We recognise that these are just some examples of innovation drawn from the governance meetings which confirmed the readiness of qualifications for pilot in session 2023-24.
We would like to thank everyone that contributed to the readiness meetings, your insight and feedback was valuable to the future of NextGen: HN qualifications.