NC Early Education and Childcare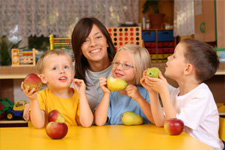 This NC in Early Education and Childcare at SCQF level 6 has been designed to replace college devised programmes. It belongs to a suite of Early Education and Childcare qualifications, which have been revised in the light of the changing nature of the sector and this NC reflects the importance of relating theory to practice.
The wide range of options, including external assessment Units, Core Skills and general and specific Early Education and Childcare Units will allow centres to tailor the NC to meet the needs of local employers.
The NC will prepare candidates for entry to further qualifications such as the HNC in Early Education and Childcare or for employment within the sector.
National Certificates (NCs) are designed for full-time delivery over one year (or part-time over two years) and are available through schools, colleges and training providers.
Why study this qualification
This qualification suits a wide range of candidates.
It is ideally suited for:
school leavers
adult returners
those in employment in the Early Education and Childcare sector as a basis for building on good practice, continuing professional development
those who wish to progress to further study.
Candidates will be given a work placement in the early education and childcare sector gives the skills required by the sector.
Achievement is nationally recognised and certificated.
Successful completion will allow the candidate to register with the Scottish Social Services Council (SSSC) at support worker level.
Access
Entry is at the discretion of the centre. However, it is recommended that candidates have four Standard Grades at Credit level or equivalent and skills in oral and written communication. Consideration should also be given to candidates with relevant experience.
 
Employment and progression
Candidates could progress to the HNC in Early Education and Childcare. In determining the structure of the Group Award, careful consideration has been given to candidate progression, either into employment or further study, and it is likely that centres will consider the content of the HNC and local employment requirements when considering the choice of optional Units.
The completion of this NC will allow candidates to register with the Scottish Social Services Council (SSSC) at support worker level.
As part of the regulatory requirements, support workers will be required to undergo continuous professional development and the component Units from this NC are suitable for this purpose.
How to assess
How to assess
Each individual Unit specification gives detailed information on the evidence requirements and approaches to assessment. There is no external assessment for the NC but externally assessed courses are available as options within the framework.
Funding
The NC in Early Education and Childcare may attract Local Authority funding for the candidate (bursary).
Any other information
Support materials are available from Scotland's Colleges' website for the following mandatory and optional Units.
Children's Development: Birth to 12 Years
Development Theory in Early Education and Childcare
Holistic Approaches to Child Health
Play in Early Education and Childcare
Supporting Children's Rights and Entitlements
Supporting Children's Behaviour
Developing an Understanding of Working with Children
National Certificate Group Award units
Deliver this qualification
Thinking of working with us?
Existing customer?
Where can you take this course?