PDA Oral Health Care: Dental Managers SCQF level 8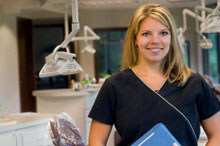 The Professional Development Award (PDA) in Oral Health Care: Dental Managers SCQF level 8 has been designed to be immediately relevant for managers and employers in both general dental practice and community services. The programmes will engage an array of real life everyday practice responsibilities such as patient care, communications, and practice inspection and performance management. This is one of a suite of qualifications for the oral health care sector and provides an excellent CPD route to registered dental nurses.
This qualification is available through colleges, training providers or workplaces, if approved as an SQA centre.
Use the tabs below to open each section individually. Alternatively you can show allhide all the sections.
Why deliver this qualification
The PDA in Oral Health Care: Dental Managers has been designed for people who are working in dental practices. Delivery is flexible and the qualification can be achieved on a full- or part-time basis whilst candidates continue to work.
Some features of the PDA are:
it is a nationally-recognised qualification
it can be achieved at work
there are no formal entry requirements
it enhances career prospects
Progression
The PDA in Oral Health Care: Dental Managers includes a range of Units from the Management, and Business and Administration suites of NOS, and some managers may wish to undertake full SVQs in these areas. Completion of the PDA with appropriate options would be a sound basis for application to:
Postgraduate Certificate in Frontline Leadership and Management Programme
SVQ in Management level 4 or 5
Approval
Specific subject expertise is required to deliver this qualification which is detailed in the Group Award Specification (Arrangements Document). To gain approval for this qualification centres should complete and submit a Qualification Approval Application Form. The Business Development Team can provide guidance in completing this form.
Assessors and verifiers must be able to meet SQA's general requirements as outlined in the guide to approval.
How to assess
It is expected that candidates completing the PDA in Oral Health Care: Dental Managers will collect evidence when working in real work settings. Assessment methods could include the following:
observation of practice
written assignments
product evidence
reflective accounts of practice
case studies
Assessments will be agreed between assessors and candidates and it is likely that candidates will compile a portfolio of evidence.
Where can you take this course?
Arrangements Documents
Unit(s) and delivery tools
Group Award code: G8RL 48
SCQF level: 8
Structure
The PDA in Oral Health Care: Dental Managers will be awarded on successful completion of three mandatory Units and a minimum of one optional Unit.
Mandatory Units
Oral Health Care: Managing Health and Safety in a Dental Environment — F1XM 35
Oral Health Care: Managing a Dental Environment — F1XL 35
Optional Units
Using Software Application Packages — D85F 34
Oral Health Care: Presentation Skills for Dental Managers — F20M 34