NC Child, Health and Social Care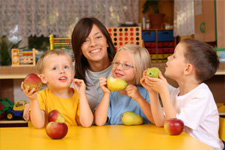 The NC in Child, Health and Social Care at SCQF level 5 is designed to give candidates the underpinning knowledge required to work in a variety of care settings. Candidates will be able to apply that knowledge to care scenarios through case studies and will have the opportunity to undertake a placement in a care setting.
The NC provides the basic knowledge and skills that can then be built on for working within the Care sector.
National Certificates (NCs) are designed for full-time delivery over one year (or part-time over two years) and are available through schools, colleges and training providers.
Use the tabs below to open each section individually. Alternatively you can show allhide all the sections.
Why deliver this qualification
The NC in Child, Health and Social Care is designed for choice and flexibility by offering an optional structure to meet the specific needs of colleges, training providers and employers.
The various progression routes within the NC provide opportunities for candidates to develop skills in problem solving, working as part of a team, developing communication, numeracy and IT.
The qualification is a 12 credit qualification, and the Units offer a diverse and flexible selection which can be tailored to the candidate needs.
Who does this qualification suit
This qualification suits a wide range of candidates. It is ideally suited for:
school leavers
adult returners
those in employment in childcare, health care and social care as:

a basis for building good practice
recognition of prior learning
continuing professional development
progression to further study.
It prepares candidates for progression from school/college programmes to higher education, employment or further training within child care, social care or health care.
Mandatory and optional Units provide excellent opportunities for work placements and experiential learning.
It also:
Improves employability skills (time-keeping, appearance, customer care).
Enhances self-evaluation skills.
Encourages candidates to become reflective practitioners.
Develops citizenship.
Access
While entry requirements are at the discretion of the centre, candidates would benefit from attaining Standard Grade or Intermediate 1 (SCQF level 4) Courses or Units in Sciences, Social Sciences or other relevant subjects. Consideration should also be given to candidates with relevant experience.
This NC gives ample opportunity to develop skills which will increase the candidate's employability and citizenship. Aspects of the underpinning knowledge in the National Occupational Standards level 2 are reflected in this NC.
Some candidates will have gained National Qualifications in sciences or social sciences and these are transferable to the NC.
Progression
This NC will provide candidates with a nationally recognised Group Award. The inclusion of component Units in two National Courses, ie Care and Early Education and Childcare in the mandatory section ensures academic rigour. Whilst the Units are mandatory, the external assessments are optional. Candidates who sit and achieve the external assessment enhance their academic profile.
The diversity of the optional framework creates vocational pathways and choices for candidates to progress to higher education, employment or further training within childcare, health care or social care.
This NC will provide the underpinning knowledge and skills to undertake higher education or further training in social care for candidates wishing to progress and attain registration at support worker level with Scottish Social Services Council (SSSC).
Approval
Centres with devolved authority would be eligible to seek approval through their own internal approval process.
Centres without devolved authority will have to come forward for approval and should contact the Business Development Team for guidance in completing the combined CA1/SA1 form.
It is recommended that suitably qualified staff with relevant occupational experience deliver, assess and verify this NC to ensure learning and teaching is linked to the workplace. Current approval conditions for centres offering qualifications in childcare, health and/or social care will apply.
How to assess
Each individual Unit specification gives detailed information on the evidence requirements and approaches to assessment for each Unit. There is no overall external assessment but externally assessed Courses are available within the framework. There is also an opportunity for integration of Units.
Where can you take this course?
Qualification content and delivery tools
Qualification structure
Group Award Code: G8XP 45 (72 SCQF credit points)
SCQF level: 5
NC Child, Health and Social Care at SCQF level 5 (808 KB)
Course Overview and Skills Development Summary - NC Child, Health and Social Care (808 KB)
The NC comprises a total of 72 SCQF credit points and is made up of the following three main sections.
3 credit mandatory section
6 credit optional mandatory section (choice of 3 Units from 6)
a selection of optional Units at SCQF level 5 and SCQF level 4 including external assessments.
Each Unit is worth 6 SCQF credit points.
Mandatory Units
Care: Human Development and Behaviour - Nat5 (H21875) (1.0)
Care: Social Influences - Nat5 (H21A75) (1.0)
Care: Values and Principles - Nat5 (H21C75) (1.0)
Optional Mandatory Units (minimum three credits, maximum six credits)
Child Development and Health — F19L 11
Play in Early Education and Childcare — DM41 11
Working In Early Education and Childcare — DM84 11
Families in Modern Society — F01C 11
Maintaining Safety in a Care Setting — F1P2 11
Healthy Eating in a Care Setting — F1P1 11
Optional Section
In determining the structure of the NC, careful consideration has been given to candidate progression, either into employment or further study. When considering the choice of optional Units centres should take account of:
the individual candidate
required criteria laid down by other bodies for candidate entry
requirements for employment
SFEFC course funding requirements.
A minimum of 6 SQA credits must be chosen from the optional sections to achieve the NC in Child, Health and Social Care. The chosen options must include three Units at SCQF level 5 to meet the NC criteria that credits must be at the level of the Award. Any Unit may be selected from the mandatory section as an optional Unit if it was not previously chosen as a mandatory Unit.
Some restrictions will apply to choices within these sections; for example, if the chosen Units are in a 'hierarchy' then only one level of the Unit can be credited to contribute to the NC. From the external assessment section, a maximum of three SQA credits can contribute to the NC.
Due to the flexibility of this NC there is a substantial number of Units in the optional section. Please refer to APS for more detail on the optional Units.
National Assessment Banks (NABs) are available on SQA's secure website for the following Units:
DM5T 11 – HIV, Hepatitis B and Hepatitis C Infections
F3G2 11 – Social Services in Scotland
F3G3 11 – Working with Individuals with Additional Support Needs
F3G4 11 – Understanding Loss and Grief
F3FX 11 – Working with Individuals in a Care Setting
In addition SOLAR e-assessments have been developed and are available for:
F19L 11 – Child Development and Health
F2CP 11 – Children and Young People: Process of Play
F17X 12 – Psychology for Care
F17Y 12 – Sociology for Care
F17W 12 – Values and Principles in Care
F19M 11 – First Aid
DM5P 11 – Prevention of Infection
DM5T 12 – HIV, Hepatitis B and Hepatitis C Infections
Offer this qualification